Kardashian Sister, Kendall Jenner, Sports Smoky Eye Makeup And Teeny Bikini in Racy Photo Shoot
Posted on July 23, 2010, 7:25 AM
The 14 year-old steams up the camera lens in a thong and very little else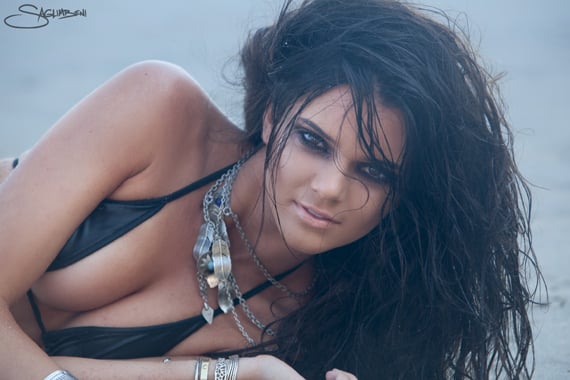 Photo by Nick Saglimbeni
Just when you thought you'd already OD'd on the ubiquitous Kardashian clan, another comes out of the woodwork. Pictures of 14 year-old Kendall Jenner, posing in smoky eye
makeup
- and very little else - have hit the Internet and are causing quite a stir.
And, it's Kendall's older half-sisters, Kourtney, Kim and Khloe K. who're the ones responsible for disseminating the pictures on Twitter.
"All I can say is wow!" Kourtney posted. "I just received Kendall's final shots from a shoot she did last week with one of our favorite photographers, Nick Saglimbeni, and I am speechless. She looks amazing!! So proud of you, Kendall."
And, Kim wrote; "I am so proud of Kendall. She's going to take over the modeling world... you just watch!"
The teen, who is rumored to be a Wilhemina model, is the daughter of Kris and Bruce Jenner and has supposedly appeared in ads for Forever 21.
In addition to the itsy thong bikini shot, there's one of her in a mini skirt, thigh high stocking and sky high stilettos causing many to wonder whether she isn't a little, um, too young to be posing in such get ups. But, with recent similar photos of 'Gossip Girl's' Taylor Momsen and formerly innocent Miley Cyrus surfacing, can this be the tip of the iceberg to be an (alarming) trend?
"I looked to Kim for posing advice," Jenner told E!. "[Kourtney] said to put my own style into the clothes that I was wearing. I was a little nervous before the shoot, but after I started taking a couple of pictures it just flowed and it was so fun."