The Olsen Twins Criticized for Outfits, But Sport Impeccable Makeup
Posted on February 23, 2010, 8:28 AM
There has been a lot of talk about the Olsen twins' appearance at the Elle Style Awards in London over the weekend. The pair pictured here at a previous event, wore impeccable makeup but donned similar tulle skirts and short fur chubby jackets.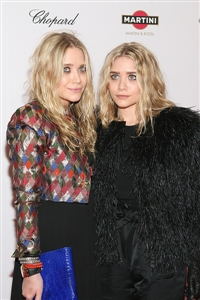 Mary Kate and Ashley Olsen pair fabulous makeup with terrible clothes.
How embarrassing for them! Oh . . . wait. Did they mean to match?
Okay, we won't even touch upon the fact that two grown women, pictured here, are still making public appearances together and wearing coordinated outfits.
However, we will happily comment on the pair's matching hideous outfits -- they're ridiculous.
Mary Kate went for all black, wearing a sheer black skirt and black fur jacket, while Ashley opted for a softer look in a cream-colored skirt and a red faux-fur coat.
The one redeeming factor in the Olsens' appearance was their makeup, which, as usual, was soft and flattering. They wore shimmering eyeshadow, smudged gray eyeliner and plenty of highlighting powder.
We think the twins should just apply the same good taste to their clothes -- it's not that hard, ladies. If it matches what you're sister's wearing, or involves the words 'red faux fur' you should probably just skip it.