New York Fashion Week Arrives, Gwen Stefani Still Sporting Red Lips
Posted on February 12, 2010, 9:56 AM
New York fashion week is finally upon us! And Gwen Stefani is among a host of stars to show up in their trendiest duds to celebrate the haute-couture happening. The singer, pictured here at another event, appeared at the launch of her new clothing co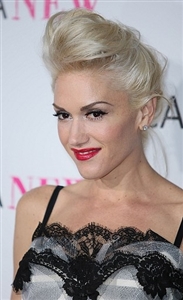 Gwen Stefani can always be counted on to wear red lipstick.
Stefani's label, LAMB, features plenty of stiletto heels and rocker chic jackets with structured shoulders, much like the ones that the vocalist typically favors. The models' makeup also seemed reminiscent of Stefani's – they all wore pin-up girl curls, red lipstick and loads of dark eyeliner.
Now, we're all for cultivating a trademark style, but there's a difference between signature and staid, and it seems like Stefani might be right on the line.
What do you think? Are her deconstructed retro stylings at the top of your wish list, or does the lovely lady need to freshen up her line (and look) a little bit?