Has Kate Gosselin Gone Tanning for "Dancing with the Stars"?
Posted on March 5, 2010, 1:09 PM
Some moms barely have time to wash their own hair, but mother-of-eight Kate Gosselin seems to have enough room in her schedule to hit the tanning booth before prepping for her appearance on "ABC's" "Dancing with the Stars."
<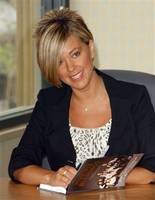 We hope that Kate Gosselin hasn't been tanning!
The maternal reality star, pictured here at a previous event, has been spotted out and about with her professional dance partner, Toni Dovolani. When the pair was getting ready to hit the gym, Gosselin was snapped in her new wavy
hairstyle
and radiating a healthy glow. We hope that she's faking a bake!
Earlier this week Gosselin also appeared on the red carpet with Dovolani, wearing a fitted black dress and a similarly sun-kissed glow.
Perhaps there's a romance brewing between these two dancing fools?
Regardless of how she fares in the demanding competition, Gosselin is definitely doing better than her ex-husband, Jon Gosselin. Rumor has it that "Playgirl" recently offered the frazzled father a paltry $20,000 to take it all off for their infamous mag.
"We discussed it, and we'd offer him only $20,000," "Playgirl" rep Daniel Nardicio told "Life & Style" magazine. "His star is extinguishing."