Hudson, Cruz and Kidman Display their Celebrity Makeup at the Premiere for Nine
Posted on December 4, 2009, 11:09 AM
Movie stars Kate Hudson, Penelope Cruz and Nicole Kidman showed off three great eye makeup ideas that are sure to make anyone stand out this holiday season.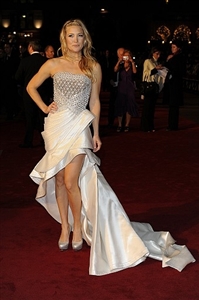 Kate Hudson chose white eye shadow for Nine's London premiere
Actress Kate Hudson, pictured here, showed up to her movie premiere looking lovely with white eye makeup. This look is simple to copy by using metallic silver shadow on the base of your lids, and using a narrow makeup brush to line the shadow under your eyes. Be sure to add some extra shadow in your tear ducts for an iridescent effect. Use thin black eye liner and a couple coats of black mascara to really make your eyes stand out.
Penelope Cruz skipped the shadow, and instead topped her thick black eye liner with a shimmery pink liquid liner on top. This is a great trick if you're on the go. Just be sure to go heavier on the liner for the inside of your eyes.
Finally, Nicole Kidman walked in with simple eye makeup and bright red lips. Kidman went heavy on the mascara but left her shadow to a minimum. She instead focused on wearing a bright red lipstick to play off her soft complexion.
These are just a few ideas that could be great for any occasion.