"Dancing With the Stars" Winner Nicole Scherzinger's Smoky Eye Makeup Tips
Posted on May 26, 2010, 6:58 AM
The (erstwhile) Pussycat Doll nabs the mirrorball trophy and, natch, looks gorgeous while doing it.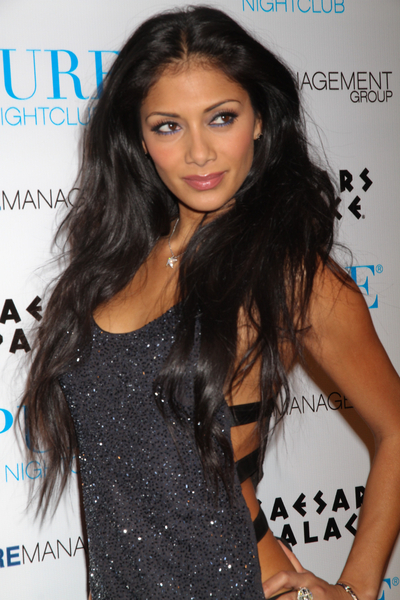 "Dancing With the Stars" Winner Nicole Scherzinger's Smoky Eye Makeup Tips
"I feel like I just won a Grammy," an exuberant Nicole Scherzinger told reporters after winning the 10th season of "Dancing with the Stars" last night. "Now I want to work on getting a real one," the Pussycat Doll, hot off having reprised a tricky Argentine tango for the win, said.
Her partner, Derek Hough -- who nabbed his 2nd mirrorball trophy -- was equally delighted saying that he'd "Had the best time" dancing with Nicole and getting to "explore things I've never been able to do."
Nicole, who was wearing a super-short, gold-beaded flapper dress when the decision was handed down, also sported her signature smoky eye, a look that she -- and Kim Kardashian -- have helped make all the rage.
So, how can you copy cat the pussy cat's cat eye? It's not as tough as it looks.
Step. 1. Apply a sheer nude color over your entire lid.
Step 2. Choose a plum or
dark brown shadow
and apply it from your lid to your crease, being sure to blend it well - the key to a great smoky eye lies in the blending! For a more "cat-like" look, you'll want to sweep and blend this bottom base tone out past the corners of your eyes.
Step 3. Line your entire eye with a similar shade. Make sure to draw the lines as close to your lashline as possible.
Step 4. Using a super-thin brush (or, if you prefer, your pinky) smudge the line up towards the crease and slightly out towards the outer edge of your eye.
Step 5. Finish with 2 coats of black mascara.
Adding the coveted Grammy to her trophy shelf is going to require baby steps but, with her new single "Nobody Can Change Me," set to drop next Tuesday (it's already available for download on iTunes), she's already crawling. "It's an empowering, uplifting song," Nicole says. And, if it's anywhere near as popular as she was on DWTS, maybe her long awaited solo debut will finally hit shelves.
Were you surprised that Nicole and Derek won the competition? Who was your favorite? And, who should be tapped to dance in season 11?