Mariah Carey's Pregnancy is Official
Posted on October 28, 2010, 1:00 PM
Mommy Mimi and Nick Canon are busy preparing for their first child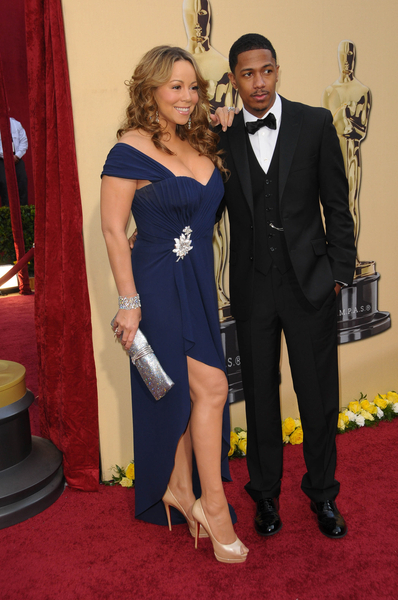 Mariah Carey's Pregnancy is Official
"Yes, we are pregnant, this is true!" Those were the words – for realliez – the world has long waited to hear Mariah Carey to say. The 41-year-old singer, sitting alongside her husband of two years Nick Canon, confirmed the news herself in an interview with Access Hollywood's Billy Bush this morning on the "Today" show.
Thirty-year-old Canon is also looking forward to parenthood. "It's a happy moment," he told Bush. "I'm usually not at a loss of words, but it's been a good morning with all the congratulations and all that stuff, and speaking to my wife." Along with the expecting couple, we're sure the world can't wait to see how beautiful and glowing Mimi's
body
will be in her soon-to-be-preggers state.
And boy or girl? For now, Mimi is remaining mum about the sex of the baby, even omitting any details to her 3.4 million Twitter followers. She said only this on her blog, "I appreciate everyone's well wishes. But I am very superstitious. When the time is right, everyone will know, even Cindi Berger [my publicist.]." Regardless, it's known the couple, who married in the Bahamas in 2008, has shared potential baby names since the beginning of their courtship.
The superstar is notoriously tight-lipped about her personal life but the five-time Grammy winner did open up about one of the biggest secrets she's kept for years: her devastating miscarriage with Canon two years ago. "I've never really been a very forthcoming person about my personal stuff," she told Access Hollywood. "It kind of shook us both and took us into a place that was really dark and difficult."
Despite this rocky beginning for the would-be parents, the experience made them grow stronger together as a couple. "Honestly, I feel we learned a lot as people. It prepared us to do it," continued Carey, referring to her and Canon's decision to start a family, even amid constant baby rumors. "It's been a long journey [and] tough because I've been trying to hold on to a shred of privacy."
And what's hubby take on all this? Since the announcement, canon has avoided discussing the preggers details on his radio show, giving his wife nothing but the privacy she deserves. "It's weird how the media can get involved with your personal life because even when you want to share something, it's hard to share the truth — because people already spoiled it. It makes the truth cloudy."
We hope the couple can retain their privacy among the media madness that will ensue in the coming months, at least until the baby, it's reported, is due in spring.
Carey's next album, "Merry Christmas II you", will be released on November 2.
What do you think of Mommy Mimi's new pregnancy? How long until you think her body start showing? And are you hoping for a boy or girl?