Padma Lakshmi Glowing after Baby and Pregnancy
Posted on May 24, 2010, 3:31 PM
Padma Lakshmi is known for being one of the sultriest chefs in the business and she looks just as gorgeous after her pregnancy as she did before. Though she recently addressed her baby-weight gain at a benefit for endometriosis, she also spoke about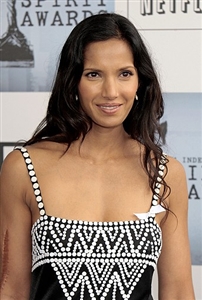 Padma Lakshmi looks lovely after baby and pregnancy
Lakshmi, pictured here at a previous event, suffers from endometriosis and faced infertility as a result of the condition. She was bedridden for six months of her pregnancy.
"The minute I wasn't bedridden ... I got to work ... I was 25 pounds heavier than people are used to seeing me. There was nothing I could do about it, so I just accepted it," she said at the event, according to "The Huffington Post."
She added, "I just thought, I had a baby, that's way more important. Women are beautiful in all shapes and sizes and I wanted to show women that you can dress well, that you can still feel sexy, that you can still feel confident."
Endometriosis is a condition which affects 70 million women and girls worldwide, according to Endo Resolved, a non-profit group that offers advice and support to women who are diagnosed with the disease.