Kate Moss is Engaged
Posted on February 3, 2011, 9:30 AM
The perennial supermodel will tie the know this Summer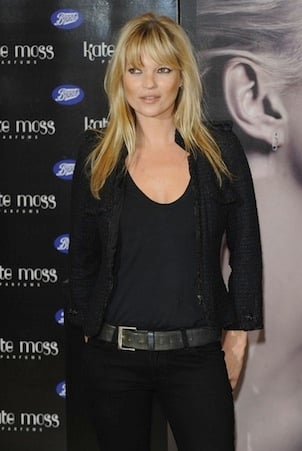 Kate Moss is Engaged
It may not garner
quite
as much attention as a certain
other English wedding
but another famous British Kate is gearing up to walk down the aisle.
The SUN newspaper reported Thursday that supermodel Kate Moss and her longtime rocker beau, Jamie Hince (of the band The Kills), became engaged on Tuesday night when he proposed -- in bed -- at their North London home.
According to the report, the guitar player "switched the lights on" and got down on bended knee, proffering a vintage 1920s engagement ring. He'd even asked Mr. and Mrs. Moss' permission beforehand.
A source close to the situation told the paper that, "Kate is delighted. Jamie is the man for her - they are soul mates," adding that "They're going to have the mother of all weddings. It will be a huge party, one of the biggest she has ever thrown - and she's thrown a few."
The nuptials are planned for July and Moss's 8 year-old daughter with her ex-boyfriend, Jefferson Hack, Lila, will be a bridesmaid.
This will be the first marriage for Moss, the
natural beauty
, who famously dated Johnny Depp and Russell Brand and was also engaged to troubled rocker Pete Doherty for a spell.
--Audrey Fine