Dethroned Miss California Carrie Prejean is Pregnant
Posted on November 11, 2010, 10:58 AM
After four months of marriage, the ex-beauty queen has announced that she is with child.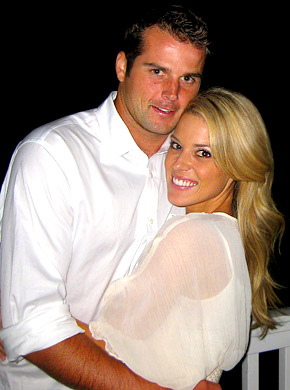 Photo Courtesy of: Wenn.com
Carrie Prejean, after her five-minute fame for having been a beauty queen turned anti-gay marriage motivational speaker, has moved out of the spotlight and down to San Diego where, last July she
married
Oakland Raiders quarterback Kyle Boller.
Now Prejean is back in the news. As she told Fox 411 today, she and Boller are expecting their first child. "We are just so excited," she said. "I'm due in May on my grandmother's birthday. She recently passed away, so that's very special to us."
According to Prejean, the couple began trying for a child about a month after their wedding, and couldn't be happier about the
baby and pregnancy
.
Husband Boller, 29, describes Prejean as "the most beautiful pregnant wife ever, we are so in love, and this was just the best news when we found out a couple of weeks ago."
Although they won't know the baby's gender till later next week, the pair has already begun thinking about names. "We are keeping [them] to ourselves for right now. It has been fun looking at baby books," said the glowing mom who is now three months along. Unfortunately, the pregnancy hasn't been all smooth sailing. "I'm trying to stay healthy, but it has been tough," the former beauty queen admits. "I've been getting night sickness."
Maybe Prejean should take some
health and beauty
tips from "Project Runway's"
Nina Garcia
, who's also expecting a child and says she's on a mostly fruit and vegetable diet.
-- Sharon J. Yi