Christina Hendricks' New Diet - The 'Mad Men' Star Reportedly Wants to Change Her Voluptuous Body
Posted on October 19, 2010, 8:50 AM
As men the world over shudder at the thought, some say that the curvaceous star wants to lose some weight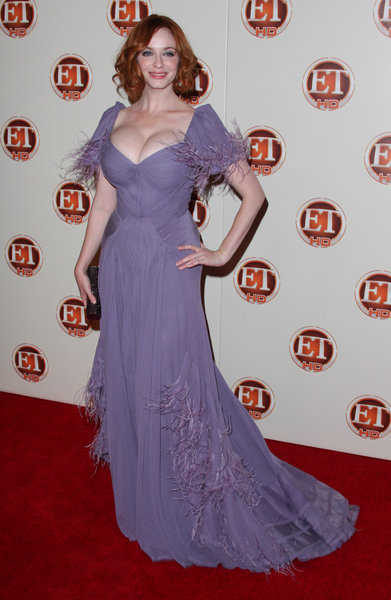 Christina Hendricks' New Diet - The 'Mad Men' Star Reportedly Wants to Change Her Voluptuous Body
In news that is shocking the male population (and lots of us girls, too), Christina Hendricks, the gorgeous star of AMC's "Mad Men," has reportedly said that she wants to lose 35 pounds from her wonderfully voluptuous
body
!
Hendricks, who shot to overnight stardom thanks to her poignant portrayal of Joan Holloway on the Emmy-winning series, has become somewhat of the poster girl for zavtig women everywhere - her body is lush, her bosom ample and thanks to her
natural beauty
, she's the fantasy woman of many a man. That's what seems to be the problem.
"Christina has got sick of all the talk of her being the curviest woman in Hollywood. For her it basically meant she was being called fat," an anonymous source confided to Britain's "Daily Mail" newspaper. "Now she's gone against everything she believed in before by going on the first diet of her life. Christina's cut out carbs, and alcohol, although she's not a big drinker. She's eating fish oil to break down fat and pak choi and edamame nearly every meal."
Why, when she's been championed (not to mention lusted after) for her curves would the 35 year-old Texas native want to do such a thing? In addition to reportedly being unhappy with the constant scrutiny and comments about her body, the actress (who's a
natural blonde
!) has found it hard to get dressed for award shows and red carpet events. "Not one designer in town will loan me a dress," she said following last month's Emmy Awards. "They only lend out a size 0 or 2. So I'm still struggling for someone to give me a darn dress." (She ended up wearing the stunning lavender Zac Posen gown seen here.)
The good news is that Hendricks herself has yet to confirm - or deny - the reports of her jumping on the stick-figure Hollywood bandwagon, which means that there's hope that she'll remain true to her awesome curves and continue to inspire "real women" to feel good in their own skin rather than trying to buy into some impossible ideal of skinny "perfection".
Besides, as we found out in Sunday night's season 3 finale of "Mad Men," her character Joan, is pregnant! Show runner and writer Matthew Weiner is a genius, but even he would be hard-pressed to explain a major weight shift under those circumstances.
What do you think? Should Hendricks conform? Or, should she continue to bask in her real woman glory?