Sarah Jessica Parker Pairs Victoria Beckham-Designed Dress with Wavy Hair at the White House
Posted on February 26, 2010, 12:08 PM
Many celebrities might stress over what they should wear to the White House, but we're sure that the sartorial Sarah Jessica Parker, pictured here in "Sex and the City 2", didn't have to think twice about her ensemble when she headed to 160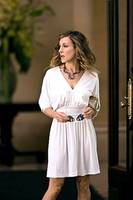 Sarah Jessica Parker pairs wavy hair with high-fashion for an effortless look.
The fashionable frock, which was designed by Victoria Beckham, was pitch-perfect, as it was a little bit Jackie O and perfectly matched SJPs chic style.
Beckham usually pairs her fashion choices with a dramatic
hairstyle
, but we like that Parker chose more relaxed hair for her White House appearance.
Ladies who love the actress' fashion sense are likely to be chomping at the bit for her next movie, "Sex and the City 2," which is slated to be released this May. The film will take the fabulous quartet on new adventures to faraway places where they're sure to sport new ensembles, weather-resistant makeup and exotic
hairstyles
.