Pixie-Haired Emma Watson Wows at London "Harry Potter" Premiere
Posted on November 12, 2010, 12:24 PM
Gone are Hermione Granger's bushy-haired teen hairstyles as the Brown University student wows on the red carpet with her gamine 'do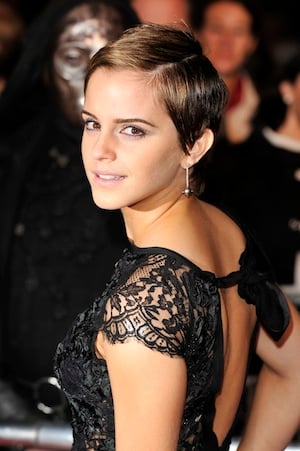 As millions of fans mourn the end of "Harry Potter," Emma Watson embraces a big change
When 20 year-old Emma Watson lopped off her signature "Hermione Granger" hair a few months back, it was because for the first time in over a decade she was actually
allowed
to choose her own
hairstyle
.
"I was contractually obliged not to cut my hair," Watson reveals in the December cover story of British VOGUE. That's right, since she was first cast as one of Harry Potter's two bffs in 1999, Watson had to retain the look that brought Hermione to life for legions of
Potter
fans the world over. She was also required to shun the sun at all costs. "All the normal things girls do, I couldn't," she says in the interview, "So when I got the chance to change my appearance, this is what I did."
And she did it with style and aplomb, cutting her long, wavy hair into a super-short, ultra chic pixie and, nowhere did the new style create more of a ruckus than at Thursday night's fan-packed "Deathly Hallows: Part. 1" premiere in London.
"Generally the reaction's been positive but it's a bit of a shock for some people because it's different," Watson, wearing a stunning vintage black lace mini dress, told reporters during red carpet interviews.
In addition to taking the axe to her little girl wizard tresses, Watson recently switched up the color, adding a slightly darker tone to it. But don't expect the Brown University student to go all "Katy Perry or Rihanna" with her color now that she has the freedom to do whatever she likes. "I'm very into looking natural," she told reporters who asked if she'd perhaps be platinum by Christmas, "so probably not, but never say never."
The first installment of the final chapter in the
Potter
series doesn't open in the states till November 19, with Part 2 slated to hit theaters in July. Expecto patronum!
-- Sarah McClure