Taylor Swift Steps Out at the CMT Awards with Straight Hairstyle
Posted on June 9, 2010, 5:52 PM
Taylor Swift is rarely seen without her trademark curly hairstyle or dramatic eye makeup. However, the beautiful lady recently turned even more heads than usual when she appeared at the CMT Awards with straight locks (Swift still sported her trademar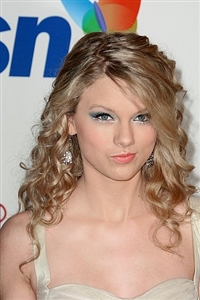 Taylor Swift wore a straight hairstyle at the CMT Awards
The blonde songstress, pictured here with
curly hair
, was nominated for plenty of awards, including Female Video of the Year. Swift walked away empty handed, but we're happy that she took a risk and tried something a little different.
Her straight
hairstyle
accentuated her lovely features and paired nicely with her simple but sophisticated wine-colored party frock.
Just once we'd love to see the young lady with a little less
eye makeup
, but we'll take this small change as a step in the right direction.
And, something tells us the hairstyle took a lot less time to create than her usual cascade of perfect blonde curls.
What do you think -- was Swift's look a hit or a miss?