Carey Mulligan Poses with Pixie Hairstyle for Vogue
Posted on September 17, 2010, 9:11 AM
The "Wall Street: Money Never Sleeps" star is rocking a lengthier version of her schoolboy short hairstyle on the fashion bible cover.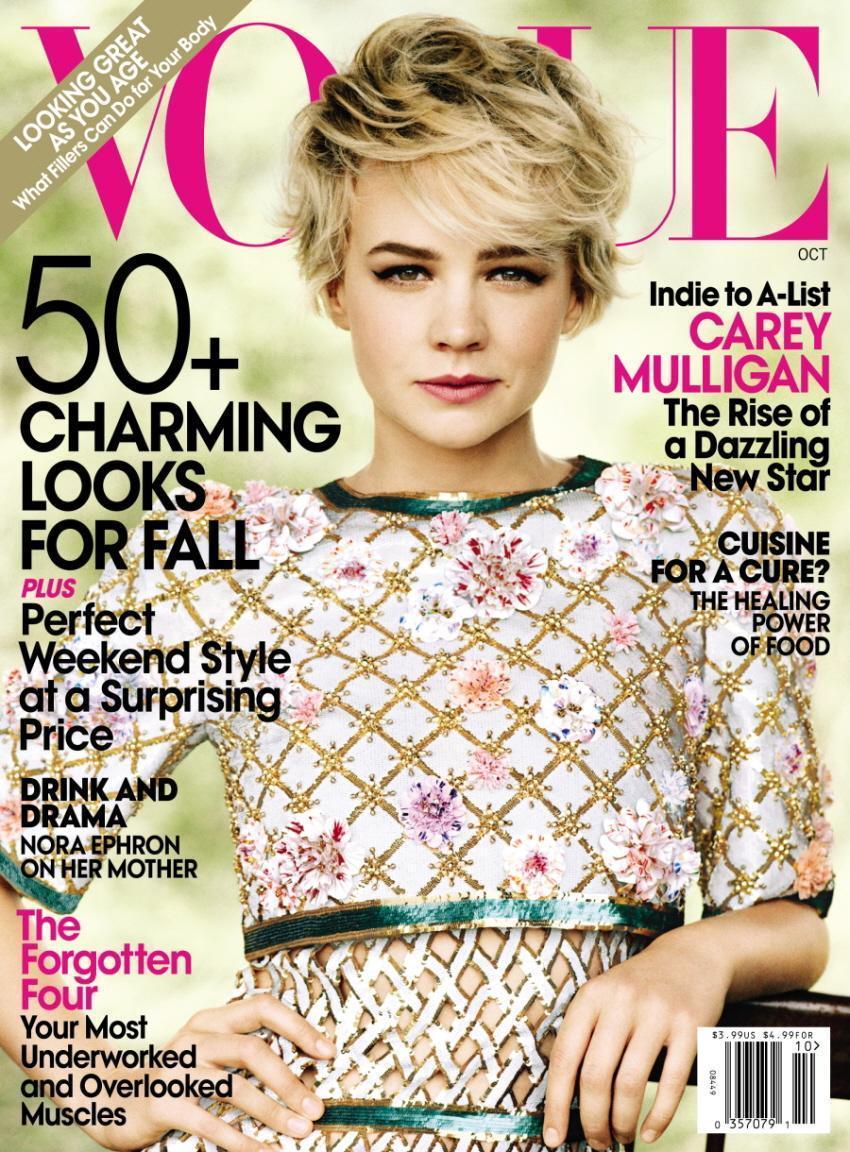 Carey Mulligan Poses with Pixie Hairstyle for Vogue
A heavenly looking Carey Mulligan is seen sporting a shaggier version of her formerly cropped pixie
hairstyle
on the cover of Vogue's October issue. Mulligan, who was nominated earlier this year for the Academy Award's Best Supporting Actress for her role in "An Education," is dressed in a flowery Chanel couture dress with a delicately interlaced mid section. "The September Issue's" Grace Coddington styled the up-and-coming British starlet, offering a gracious opinion. "Carey is a favorite of mine, she's so utterly charming," says Coddington.
Shot by photographer Peter Lindbergh in an idyllic setting in the South of France, Mulligan wears fall's latest looks – apparently the items came straight from the haute couture fashion shows that had wrapped in Paris.
"It's amazing wearing everything I've worn over the last two days," says Mulligan, who, come this month, will star with real-life beau Shia LaBeouf in "Wall Street 2: Money Never Sleeps."
"Everyday I'm pinching myself, it's beyond anything I ever thought would happen," she says. "I'm not used to it at all." Maybe the most amusing part about the Vogue shoot, according to Mulligan, was the need to clip a towel around her bare bum. "The cover dress was very pretty, but wouldn't go over my a***," admits the 25-year-old who once lost so much weight she found it disadvantageous for working long hours. "I went down to 112 pounds and realized my brain doesn't work when I'm that thin." Sample sizes are very, very tiny. Some of it hasn't fitted particularly well because it's for runway models, according to Mulligan.
But perhaps one of the better accessories on the Westminster-born actress was her smoking, textured pixie 'do and side swept bangs—a hairstyle that has nicely grown out since the Brit first chopped her mane. Having gone from bleach blonde to chocolate brunette, Mulligan's coiffure offered a perfectly tussled look of lowlights and dark undertones—a definitely cover worthy look.
Most recently, Mulligan returned from the Toronto International Film Festival where she was promoting her latest film, "Never Let Me Go," in which she stars alongside her former "Pride and Prejudice" co-star Keira Knightley.
-- Sarah McClure