The Messy Bun: Popular Oscar Look and Great for Prom Hairstyles
Posted on March 10, 2010, 10:22 AM
Now that the Oscar dust has settled, we can sit back a bit and look at the big picture to see what trends were a hit on the big night. One hairstyle that was popping up everywhere on the red carpet was the messy bun.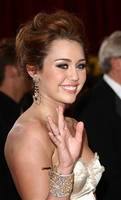 Miley Cyrus wore a romantic hairstyle to the Oscars.
Starlets like Amanda Seyfried, Jennifer Lopez, Anna Kendrick, Helen Mirren, Kristen Stewart and even Meryl Steep opted to sweep their long tresses away from their face, creating a soft, romantic look.
Our favorite version of the elegant style was Miley Cyrus' chic updo. The singer, pictured here at the awards, who recently appeared in the film "The Last Song," piled her brown locks up in a swirling bun that was the perfect mix of causal and classy.
We just wish that the pretty young lady would stand up straight and stop slouching!
We know, we know -- we sound like your grandma. But we can't help it! Seriously, her poor posture nearly ruined the effect of her gorgeous gold gown, beautiful makeup and pretty
hairstyle
. Almost. We still think that she, and nearly everyone else, looked fantastic on the big night.