Kate Moss Applies the Big Bang Theory to Her Hairstyle
Posted on October 26, 2010, 2:31 PM
Kate Moss' bangs gets fringe-y with it.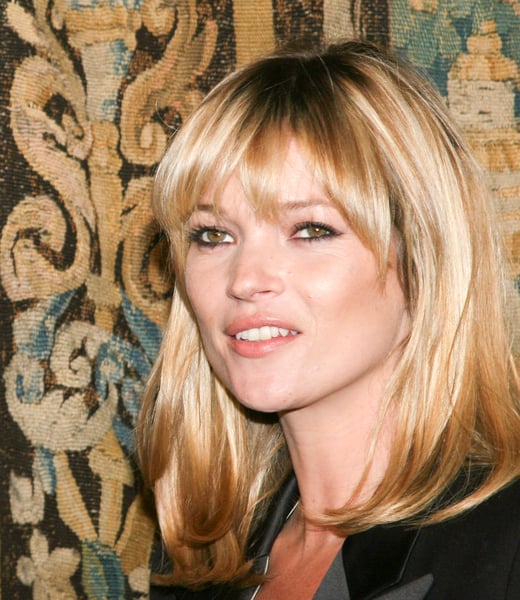 Kate Moss Applies the Big Bang Theory to Her Hairstyle
Recently, our favorite waif supermodel, Kate Moss was seen rocking a vampy, new fringed bang
hairstyle
in London. The 36-year-old, rumored husband Kills rocker Jamie Hince in tow, was attending the album launch party for musician Bryan Ferry, whose latest album cover "Olympia" features the style icon in a diamond necklace and white bed sheets. Moss wore a black velvet and faux fur-trimmed coat with her new bobbed haircut and eyelash-grazing bangs.
"I thought it would be a good idea to ask Kate, because she's a great femme fatale of our era," Ferry told InStyle.co.uk. "And while she's undoubtedly one of the fashion world's favorite darlings, with her choppy blonde locks and new blunt bangs, we couldn't agree more that she's also the ultimate rock 'n' roll album cover star!"
Could you agree more? Or do you think Moss should have left her bangs back in 2007, when she last wore them?
Pal and stylist James Brown, who's responsible for giving the model's 'do an update, accentuated her bang-y look by adding fringes just above her high cheekbones. "I really love the long fringe I did for Kate," Brown told The Mirror. "It's such a fresh, young look, yet it's still really sexy. I particularly like how it can be styled to half veil, half reveal the eyes. That can be so hot." Brown, who has also worked wonders on David Beckham's and Gwyneth Paltrow's threads, has collaborated with Moss on a range of hairstyles in the past.
It's said Moss' latest fringed style was inspired by a bobbed Michelle Pfeiffer circa "Scarface."
"Fringes can suit most people - especially when they're kept a bit longer," continued Brown.
This isn't the first time the model has faced the public with a cropped front. She was given bangs for a 2009 Vogue Paris cover, though we're not sure that was her real hair.
What's your opinion? Is model Kate Moss enough to revive fringed bangs? After all, this is the same gal that made the bedhead look fashionable.
-- Sarah McClure