Did Heidi Klum Get a Mom Haircut?
Posted on April 13, 2010, 1:40 PM
Heidi Klum is known for her gorgeous, flaxen locks, but the pretty lady recently chopped her long hair into a shorter look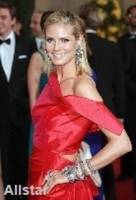 We're not sure how we feel about Heidi Klum's short hairstyle.
Klum, pictured here with longer hair, opted for a shoulder-length bob and blunt bangs. The style looks like it doesn't require too much maintenance, and boasts an easy-going West Coast vibe.
But … we're not sure that we like it. In fact, we're completely on the fence about this
hairstyle
!
It's obvious that a working mother of four doesn't have too much time to spend on blow-outs and mane-maintenance, but we think Ms Klum is doing herself a disservice by sporting a mom cut.
The style is a passably chic and easy look, but it seems like a cop-out for one of the most beautiful women in the world to be wearing such an average hairstyle!
What do you think -- does the busy mommy deserve an easy cut, or does Klum need to step it up?