Jessica Simpson's Friend Says She's "Sad" That Nick Lachey's Engaged
Posted on November 5, 2010, 10:52 AM
While the singer/designer hasn't made any public statements, a source close to her reveals that she'll always have a place in her heart for her ex.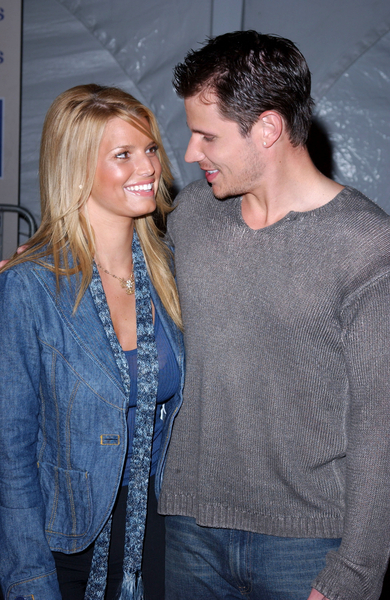 Jessica Simpson and Nick Lachey at an Event in 2003 - How Times Have Changed
With word of Nick Lachey and Vanessa Minnillo's engagement taking the Internet by storm yesterday, it was only a matter of time before someone got to Lachey's ex, Jessica Simpson, to get
her
take on the happy news.
Popeater.com's Rob Shuter reports that he's spoken to a friend of Simpson's who said that while she's not surprised by what happened, she
is
sad about it.
"Even though Jessica wants to be happy for Nick, this is a very difficult time for her," the pal revealed. "Nick was the love of her life then, and he was her first, so she will always have a very special place in her heart for him. She's deeply saddened."
Shuter also talked to a friend of Lachey's who said that the ex-boy bander "Never thought he would ever get married again after Jessica broke his heart. He never thought he would ever allow himself to be vulnerable again, but after dating for a long time he trusts Vanessa and knows she's the girl he wants to spend the rest of his life with."
As has been reported, yesterday (5 days before their shared birthday of Nov. 9) Lachey proposed the old-fashioned way - on one knee with an Asscher cut diamond from designer Bader & Garrin in hand. And, of course, Minnillo accepted. ("US Weekly" estimates that the ring is worth $150,000.)
"We're excited and incredibly happy about our engagement," the happy pair said in a statement released to "US Weekly," and we look forward to a wonderful future together."
And, while Simpson has reportedly not reached out to congratulate the couple as yet, that could just be because she's caught up in the drama of her own life.
Ever the tabloid fixture, the 30 year-old singer/actress/designer, has been making headlines of her own of late because of her
fallout with her longtime bff Ken Paves
(the man who's responsible for her famous
hairstyles
) and her increasingly serious relationship with recently divorced, ex-NFL player, Eric Johnson.
What do you think Jessica Simpson's public reaction will be? And, can an engagement announcement of her own be in the works?