Anne Hathaway Flaunts French-Twist Hairstyle for Vogue
Posted on October 19, 2010, 3:14 PM
Anne shows off her Holly Golightly side in Paris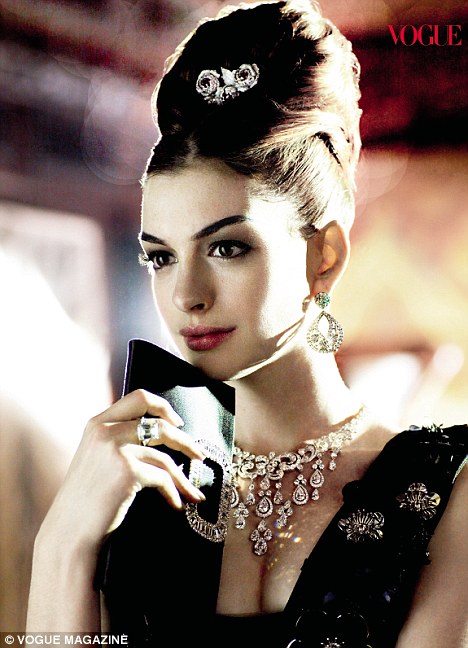 Courtesy of Vogue
It seems only yesterday we were peering at a young, twenty-something Anne Hathaway playing a clumsy, fashion-backward girl in "The Devil Wears Prada." (Not to mention her star-making turn in 2001's "The Princess Diaries!") We know from real life, that her character couldn't be farther from the truth—Hathaway has carved out her own niche amid the Hollywood glitterati as a
natural beauty
not to mention Oscar-nominated actress, she's reminiscent of Elizabeth Taylor or Judy Garland, says "An Education" Director Lone Scherfig, who will film the actress in his upcoming romantic comedy, "One Day."
As "Vogue" magazine's November cover girl, photographed by Mario Testino, the 27-year-old magnificently channels Audrey Hepburn in her "Breakfast at Tiffany's" Holly Golightly days wearing an Oscar de la Renta dress and bejeweled French twist
hairstyle
.
The actress was also seen flaunting around the city of lights in floor-length gowns like a Vera Wang satin dress, Isaac Mizrahi New York sequined strapless dress and Carolina Herrera asymmetrical dove-gray duchesse-satin dress. But it was while outfitted in a Miu Miu radzimir tank with flower and metal embroidery and bedecked with a Cartier diamond-and-platinum necklace, Boucheron diamond and ruby brooch topped as a hair ornament, that Hathaway's classic glam was brought to life. For readers of Anna Wintour's glossy, it will be like seeing Hepburn gazing into that Tiffany's window again.
"It was true glamour," Hathaway told "Vogue." "Not just the clothes and the jewels but that feeling that glamour can produce in you, which is like a dream." Dream indeed, especially when you're posed in haute couture in Paris at places like the Art Nouveau dining room at Maxim.
French fantasies aside, did we mention her real-life dream, boyfriend Adam Shulman? Since meeting through friends over a year ago, the pair has been inseparable despite Hathaway's grueling work schedule. "We hit it off immediately, but it took us a pretty long time to get together," she told "Vogue."
And lest we not forget her high-profile relationship to Italian con-artist Raffaello Follieri? The experience might have provided fodder for Hathaway in "Love and Other Drugs," a role that reunites her with "Brokeback Mountain" costar Jake Gyllenhaal. Hathaway plays Maggie, an emotionally vacant woman with serious man-trust issues who discovers she has early Parkinson's disease.
"I was a wreck from start to finish, I think I cried every single day," she confessed. "I had to lean so much more heavily on everyone around me than I'm used to. I'm used to pulling my own weight. But I totally fell apart."
Talk about a cathartic movie role, Anne. But by the looks of your Vogue shoot, we don't think a loftier -- or more elegant -- high French twist could be more à propos than on Anne Hathaway (sorry Winehouse).
November "Vogue" hits newsstands on October 26.
-- Sarah McClure