Is Sarah Palin's Hairstyle Really Just a Wig?
Posted on March 22, 2010, 1:57 PM
Is the ex-Alaskan governor sporting a wig?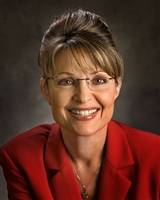 Sarah Palin's hairstyle may be a wig!
With the latest on healthcare reform all over the headlines, many news junkies have been glued to their televisions. Beauty-savvy viewers, however, may have noticed that when Sarah Palin, pictured here, made an appearance on Fox News, her hairstyle was a little high. There's still some debate as to whether or not Palin is sporting a wig,
hair extensions
or just extremely shellacked tresses, but in our humble opinion her
hairstyle
is a don't no matter what.
The "Huffington Post" is actually holding a poll to see what viewers thought of Palin's stiff-as-a-board style. In our opinion, the look has wig written all over it.
Though it would be a little odd if the lovely brunette turned out to be wearing a hairpiece, many women would love the opportunity to artificially boost the volume of their locks. But we're more inclined to recommend that they do it with
thin hair care
products to thicken their strands, rather than hair extensions.
Would you ever sport faux-strands for an added lift, or is fake hair just a little too weird?