Sandra Bullock Takes Home the Gold Wearing Vintage Hairstyle and Makeup
Posted on March 8, 2010, 10:09 AM
Sandra Bullock, who took home a coveted gold statuette at last night's Oscars, is also garnering praise for her ravishing appearance. The actress, pictured here, paired classic makeup with a sleek hairstyle and a gorgeous gown.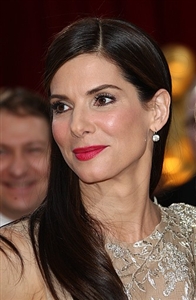 Sandra Bullock was sporting a sleek vintage hairstyle when she accepted her Oscar.
Bullock looked great as a blonde in "The Blind Side," but we were happy to see that she returned to her trademark chocolate brown
hair color
for the big night.
The brunette beauty, who won the Best Actress award for her portrayal of Leigh Anne Tuohy, wore a slinky silver dress embellished with beads, a floral pattern and a '40s-era train.
The Oscar winner accented the Old Hollywood vibe of the gown with vintage-style makeup and she wore her dark locks in a smooth and simple
hairstyle
that allowed her
natural beauty
to come through.
It seems a little unfair that the same starlet who took home the night's biggest honor should also be named as one of the best-dressed, but perhaps this is finally Bullock's time to shine.