Rihanna's Stylist Dishes to 'W'
Posted on May 5, 2010, 3:44 PM
Pop star Rihanna is known for her unconventional looks that have sparked nationwide trends. "W" magazine recently caught up with Ursula Stephen, the woman who created many of the unique Rihanna celebrity hairstyles.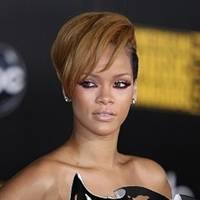 The woman behind Rihanna's hairstyle dished to 'W' magazine
On the magazine's most recent cover, Rihanna showed off her asymmetrical look. The swooping cut is styled up and to the side for a smooth look. Stephen topped off the singer's 'do with blonde highlights.
Another Rihanna
hairstyle
that has been inspiring copycats recently is her "fauxhawk."
"I basically did it with my eyes closed, and it came out really cute," Stephen told the publication of the style.
The stylist also commented on the people she sees on the street mimicking the Rihanna's styles. "Sometimes they look really good and I'm even more inspired by how they get it done."
While we wouldn't want anyone cutting our hair with their eyes closed, we dig the look!