Rihanna and Katy Perry's Crazy New Red and Blue Hairstyles
Posted on June 7, 2010, 10:47 AM
Rihanna debuted a fierce red hairstyle at "Rock in Rio" over the weekend and Katy Perry didn't disappoint with her blue hue at the MTV Movie Awards.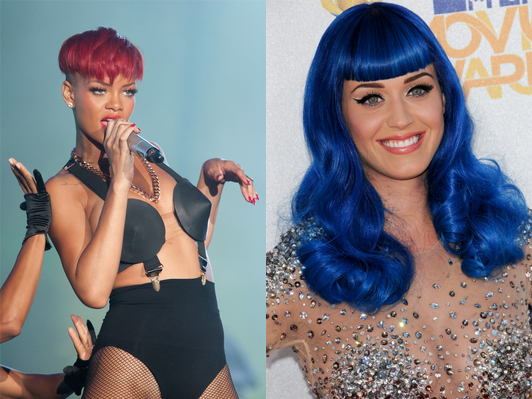 Rihanna and Katy Perry's Crazy New Red and Blue Hairstyles
While the timing was a bit off -- July 4th's a whole month away after all—the debut of Rihanna's new red hairstyle and Katy Perry's blue hue captivated legions of fans over the weekend.
Rihanna's fierce look at the crazy-popular Madrid music festival wasn't all about the
hairstyle
- a fiery shade of red, replete with shaved sides, courtesy of celeb hairstylist Urusla Stephen -- her outfit was also out of this world.
The Barbados beauty traded her umbrella for a "Vogue"-era Madonna bra (though there's no word as to whether hers was Gaultier like Madge's original) and thrilled 87,000 fans (a record crowd) with her first-ever concert in the European country. The show was part of the singer's "Last Girl on Earth" tour which heads stateside in July and will wind down in Syracuse, NY on August 28th.
Of course, Rihanna's no stranger to mixing up her look (as thi
gallery of her various hairstyles demonstrates
) and often makes the switch from edgy bangs to blunt chin-grazing bob to elegant side swept fringe without missing a beat. And, she's become a style icon because of her willingness to take risks – and make them work for her.
Another singer who's all-too-familiar with changing her hair is Katy Perry. (Witness this
shocking transformation
) You never know what to expect from the spritely singing sensation who can channel Betty Paige with the best of them one moment and then morph overnight into Cleopatra without missing a beat. And, with Perry, you know that there's always fun involved, after all, the popular pop star infuses light and a tad of mischief into everything she does.
But, it was on the red carpet at Los Angeles's Gibson Amphitheatre on Sunday night that Perry had all tongues wagging. Onlookers were delighted to see her arrive with a seemingly Smurf-inspired coif to rival Marge Simspon's, coupled with a Zuhair Murad dress which, let's just say, would look super at the Ice Capades.
< br /> And, inside the theater, fans got to rock along with an amazing performance of "California Girls" which, contrary to much-publicized rumors, she WAS clothed for.
After the show, the perpetual good sport kidded with reporters, saying, "MTV twittered that I'm gonna be naked on stage and I think I'm gonna sue them, because I'm really upset," she said with a smile. "I had to represent California girls by wearing Daisy Dukes and bikinis on top. California girls aren't all naked."
Naked? Maybe not. Good at reinventing herself? Definitely. What do you think? Which stars are in dire need of a new hairstyle or a complete makeover? And, what do you think of Rihanna and Katy's looks? Don't be shy, chime in…