Lindsay Lohan Goes Back to Court - Was Her Outfit Appropriate?
Posted on February 23, 2011, 11:29 AM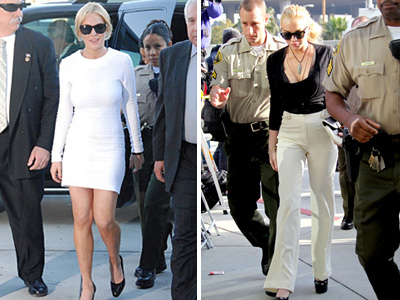 Lindsay Lohan Goes Back to Court - Was Her Outfit Appropriate?
At her last court date 2 weeks ago, Lindsay Lohan raised eyebrows when she showed up at the hearing (you may have caught wind of the news that she reportedly stole a necklace) wearing a skin tight, white Kimberly Ovitz mini dress ($575). The minute the troubled starlet set foot out of her black SUV, the blogosphere exploded. Was she reenacting "Basic Instinct" and dressing as Sharon Stone's character, Catherine Trammel? (And, if so, was she wearing underwear?!)
Cut to today when Lohan was back at "Airport Court" (so named for its proximity to Los Angeles International Airport) to appear before the judge for another hearing in the case. One might have expected her to demure and dress conservatively. But, nope. Lilo alighted from her vehicle to the frenzy of flashbulbs clad in a Chanel pantsuit. But, this was not your grandmother's pantsuit. This one boasted a
very
lowcut top beneath a shear wrap.
Do you think Lindsay's trying to make a statement with her outfits? Do you think they're appropriate for court? Do you think that she'd be vilified by the press for
anything
she wore regardless of how tight, or revealing it was?
(And, while we're at it, what did you think of her ponytailed
hairstyle
?)