It's More Than Lady Gaga's Hairstyle That Captivates Our Attention -- She Fell!
Posted on June 23, 2010, 2:51 PM
The Lady famous for her poker face literally fell ON her face!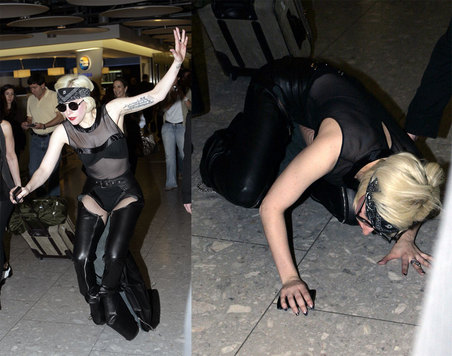 Photo Courtesy of: HuffingtonPost
The ubiquitous, indestructible, untouchable Lady Gaga has done it again: put on a show with or without a stage. In this case, the venue was the London Heathrow Airport and the audience was bag checkers and airport security. After going through security from a flight from New York City, Lady Gaga took a step and came crashing down spread eagle onto the terminal floor. Yes people, it is true. Lady Gaga fell on her knees and all the airport guards and all the security men could not put Gaga back together again.
Of course the outfit she was wearing was broken beyond repair in the first place. Wearing Charlie Chaplin sunglasses, a black bandanna and a see-through body suit paired with widely confusing leather chaps, the Lady was definitely more gaga for it than we were. Don't get me wrong, I'm the occasional fan of her crazy getups like the blonde bow
hairstyle
she did in the Poker Face video or the lightning bolt
face makeup,
which I admit tried to pull off once or twice.
But lately, it's more than her outfit or nutty hairstyle that gets our attention. While her singles are still topping the charts, she seems to be pissing off everybody else outside of the music business. And by everybody else we mean sports fans
and
... Jerry Sienfield. Go figure.
Earlier this month, Gaga was at a New York Mets game at Citi Field when she was spotted on camera giving the finger (so rude) at photographers and fans. She was promptly escorted -- studded bikini and all -- to comedian Jerry Seinfield's luxury box without his permission. Oh, the two hit it off immediately if you can imagine.
"This woman is a jerk. I hate her," said Seinfield Last Monday night on a New York radio show. "I can't believe they put her in my box, which I paid for ... You give people the finger and you get upgraded? Is that the world we're living in now? It's pathetic."
But Gaga wasn't done yet. On Friday night, after the Yankees had a disappointing defeat to the Mets (4-0), Gaga and her two lady friends stumbled into the Yankees clubhouse, uninvited of course, and stayed there for 30 minutes. The Yankees co-chairman Hal Steinbrenner, furious at Gaga's scantily clad presence in his clubhouse, reported her to be banned from the boys' locker room -- as very well should be. If the rest of us have to follow the rules, shouldn't she too? Apparently not as Yankees General Manager Brian Cashman has since rescinded her banishment from the stadium and has chalked off her disturbance as it being "not her fault."
I guess the sports world isn't her biggest fan. Seinfeld's final comment on Lady Gaga on the air was, "You take one 'A' off of that and you've got gag."
Looks like gravity (and the rest of the world), finally caught up to the towering lady who always prances around in impossible five-inch platforms and leotards. Maybe she might want to come down to earth like the rest of us now -- in a more ladylike fashion, of course.
By Sharon Yi