Gwen Stefani Debuts Another New Hairstyle, Proving How Good Her Hair Care Regimen Must Be
Posted on May 28, 2010, 5:00 PM
The No Doubt singer's new celebrity hairstyle -- and possible pregnancy -- have tongues wagging.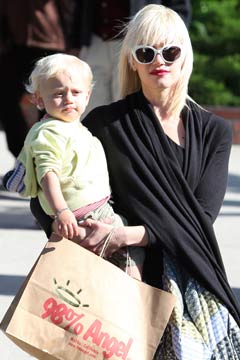 Gwen Stefani Debuts Another New Hairstyle, Proving How Good Her Hair Care Regimen Must Be
Gwen Stefani has always been known for a couple of things – her rock star performances, her avant-garde wardrobe and her daring
hairstyles
. And, one thing's for sure, the singer, whose records
and
hair are usually platinum, must adhere to an excellent
hair care
regimen to keep her tresses looking so supple after years of experimentation.
Remember a few years ago when Stefani caused quite a stir by dying her hair hot pink? Now, it's her new 'do (and suspected pregnancy) that's grabbing headlines.
The style, which boasts blunt cut bangs and shoulder-length locks, grabbed the attention of the paparazzi in Malibu, California recently when Stefani did some shopping with youngest son, Zuma, in tow.. As usual, Mrs. Gavin Rossdale looked incredibly stylish -- whether or not she was concealing a baby bump -- and we think her new cut looks great and that her hair, as always, looks incredibly healthy.
How does Stefani keep her platinum blonde bleached hair in good health? For starters, a good hair care regimen is key. Stefani's "mane man," Danilo, who also happens to be Pantene's Celebrity Stylist, uses products like Pantene Pro-V Color Nourishing Treatment to soften and smooth the rocker's hair. "I always opt to treat hair before a night of styling, especially on color-treated hair, so it is soft and appears in its healthiest form for the lights and camera," says Danilo, who recently treated Stefani's hair for the 2010 MET Gala in New York City.
When the songstress isn't relaxing with her kids and hunky hubby, she's been in the studio recording with her Doubt band mates. And, life is good. As she tweeted on May 25th, "driving Ventura blvd listening to new No Doubt - really?? This is really happening?? Yum doesn't get better than this - Gwen x"
"I want a platinum blonde life, so I keep bleaching out the colors," Stefani sings on "Platinum Blonde Life," a true ode to her own hair. When it comes to good hair care and good music, it's no doubt that Gwen Stefani's got it all.
What do you think about Gwen's new hair cut? And, are you excited to hear No Doubt's new music?