Denise Richards' New Dark Hairstyle
Posted on September 14, 2010, 8:56 AM
Charlie Sheen's ex debuts a darker hue at Fashion Week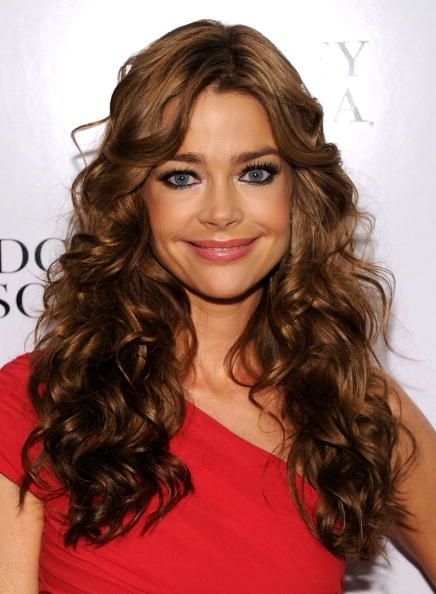 Denise Richards' Dark Hair at the Spring 2011 Badgley Mischka Show
Her reality show may have gone the way of the Do Do bird, but Denise Richards is alive and well and living it up at New York's Fashion Week where she debuted a new, darker
hairstyle
.
The mother of two of Charlie Sheen's children was having fun in New York when she bumped into Naomi Campbell (who was there to celebrate her 25th year of modeling) at the Dolce & Gabbana boutique and posed for pictures with her new brown locks. Later, Richards, 39, tweeted a caption, "Naomi and I...She is stunning." Bad grammar not withstanding, Richards went on to tell the Twitter world that "Yes, my hair is darker."
The actress, who, since her early "Wild Things" days, has always maintained a long mane replete with blonde highlights or an all-over lighter hue,, saw her reality show "It's Complicated" unceremoniously canceled by the E! Network last year but has landed on her acting feet with a role in Spike TV's raunchy football sitcom, "Blue Mountain State." In the cable show, Richards will play a recurring character who, according to TVSquad.com, "who will waste no time in bedding hottie costar Darin Brooks, who plays the resident hot shot quarterback."
The show shoots in Los Angeles, which is good news for Richards who misses daughters, Sam (6) and Lola (5) when she's away from their Los Angeles area home. As she tweeted last Friday, "'Heading to NY...can't wait,' she tweeted on Friday. 'Hard to leave my girls... They're in good hands with my dad!" Richards' dad, as anyone who watched "It's Complicated" knows, has been living with her since her mom passed away a couple of years ago.
Also on hand at the D&G shindig, which was part of Anna Wintour's "Fashion Night Out" initiative to jumpstart the lethargic economy, were a truly odd couple... Chace Crawford and Courtney Love (!).