Celebrity Hairstyles: Bangs Are Back
Posted on April 21, 2010, 2:17 PM
Bangs are a fickle friend. It seems like every time they're hot again, hairstyles change and we're left growing the pieces out for months. But, the new side-swept bangs being sported by celebs like "Glee" star Lea Michele are not only elega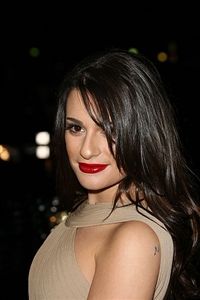 'Glee's' Lea Michele rocks bangs
Though the
hairstyle
looks lovely on Michele, we're glad the bangs don't require too much commitment - she cut them on a whim!
"I was just at home getting ready tonight and I was like, 'I think I would like some bangs, so we cut them,'" she told "Yahoo! Shine."
However, the brunette beauty, pictured here at a previous event, didn't check with the producers of her hit show before making the change. "This is real and they don't know it at work right now. We'll be using some headbands for a couple of weeks I think," she told the news source.
We say leave them! The bangs look great, and we're guessing that more than one of Michele's fans will follow suit and make the change after they see how pretty the star looks with fringe.