Hayden Panettiere Premieres Twisty Hairstyle
Posted on October 13, 2010, 8:50 AM
The former Heroes star finds a new twist on her cropped coif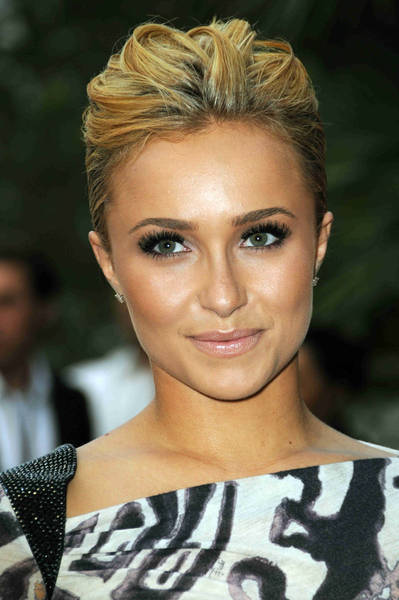 Hayden Panettiere Premieres Twisty Hairstyle
Not many would call out Hayden Panettiere on lacking a stylish coif, and for good reason. Last spring, the 21-year-old former "Heroes" star axed her Rapunzel-length hair and graduated to a more sophisticated, sometimes slicked back, cropped 'do. While attending the screening of her just-released film, "Alpha and Omega" in London, Panettiere continued to prove, long hair or not, she's still able to rock a hot look with the twisty
hairstyle
, she wore for the event.
In the animated film, "Alpha and Omega" Panettiere costars with Christina Ricci and Justin Long and voices alpha wolf cub, Kate, who falls in love with an omega wolf, Humphrey (Long). "I love 3D; it makes it all the more fun because there's a lot of physical action and 3D just plays right into it," she told The Fan Carpet. "It was always interesting to go in for different recording sessions and hear what [other actors] had done, so you get to play off each other but in a different way."
Panettiere's twisted tresses look is stunning on short hair (but works great on any length) and is nothing short of simple, requiring mere bobby pins and hairspray to keep the flyaways in place. Just twist sectioned pieces back on the sides and secure with a hairpin or two.
Having a knack for fashion sense as much hairstyle, Panettiere also caught the attention of British spectators while looking glam in dark, grey jeans, nude Louboutins and an oversized metallic top, and later at Boujis, sporting tight, black pants, a leather biker jacket and her best accessory yet: her boyfriend.
The star, being naturally stylish, is hard to miss, but is especially hard to miss when she's flanked by her 34-year-old Ukrainian heavyweight boxer Wladimir Klitschko, who outsizes the petite actress (she's 5'1") with his 6'6" stature. The two were first spotted together in February last year. On the relationship, Panettiere has told tabloids, "I've never had an athlete as a boyfriend before, it's an exciting experience." And we might add, who needs a body guard when you have a world championship boxer by your side?
Next, Panettiere will depart her cuddly cartoon character and play convicted murderer Amanda Knox in Lifetime's TV movie, "The Amanda Knox Story." Last year, Knox was sentenced to 26 years in an Italian prison for murdering her roommate. It's definitely a step in the right direction for Panettiere, who we see playing more heavy roles anyway.
Definitely a dramatic enough role for the young actress, who said this about playing Knox, "It's going to be a challenge but I'm excited about it," she told BBC Breakfast. Plus, she adds "We'll be in Rome for about five weeks."
-- Sarah McClure