"Jersey Shore's" Snooki To Hold Red Carpet Interviews at Sunday's MTV Movie Awards; We Admit the Reality Starlet Has a Great Hair Care Regimen
Posted on June 3, 2010, 3:06 PM
Snooki, the outspoken reality star of "Jersey Shore," will conduct live interviews from the red carpet at this year's 2010 MTV Movie Awards.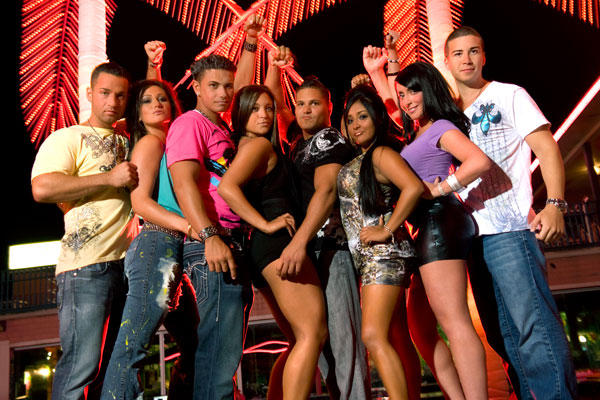 "Jersey Shore's" Snooki To Hold Red Carpet Interviews at Sunday's MTV Movie Awards; We Admit the Reality Starlet Has a Great Hair Care Regimen
With the season premiere of "Jersey Shore" coming up (whether we like it or not) on July 29th, the self-proclaimed guidos and guidettes have been clocking paparazzi face time while out and about in New York, Los Angeles and Miami, making appearances, doing interviews, partying and, of course, doing "GTL" (gym, tan, laundry).
Most of the "Jersey Shore" crew, who've been holed up in South Beach filming the new, transplanted season, will attend Sunday's 2010 MTV Video Movie Awards, but only Nicole "Snooki" Polizzi will conduct pre-show interviews live (yes, LIVE) on the red carpet as a guest correspondent for the cable network.
According to MTV.com, Polizzi wants to maintain her signature style while holding her own with nominated celebs like Kristen Stewart (Best Kiss), Betty White (Best WTF Moment) and maybe even Johnny Depp (Global Superstar). "You know, I still want to look like a guidette, but I wanna look good for red carpet," proclaims the reality queen.
What she's going to wear (and how) will remain a mystery till Sunday night, but, remember that Polizzi has been quoted as saying that she invented the "pouf" hair style that she sported during the first season of "Jersey Shore" and, though we hate to admit it, despite its, um, special qualities, she does appear to have really healthy, thick hair, proving that she may not know how to "snook for love" but she certainly knows about
hair care
.
Snooki's not alone in the "look at me hair" department. In fact, pretty much the entire cast has "special" looks; From Pauly "DJ Pauly D" Delvecchio's hard-as-a-rock spiked hair cut to Jenni "J Woww" Farley's brown hair with bleach blonde streaks, this cast nails just about every guido hair stereotype known to mall-goers up and down the eastern seaboard.. Then there's Samantha "Sammi Sweetheart" Giancola who, at first glance, appeared to have generic long, straight brown locks but, during the very first episode, revealed that they were extensions. Shock? Nah, as she explained, every self-respecting shore resident does!
Forget about who should win "Best Villain" or "Best Fight," at the awards show, the more important question is; should Snooki stick to her signature style on the red carpet? Or would a classier look better suit the occasion? Chime in with your two cents...