Molly Ringwald's Bad Hair Hardly Oscar Worthy
Posted on March 8, 2010, 10:09 AM
It's inevitable that there will be hits and misses at the Oscars (what fun would it be if everyone looked great?), but Molly Ringwald's bad hairstyle falls firmly in the latter category.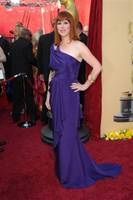 Molly Ringwald's hairstyle was far from flattering.
The star of "The Breakfast Club", pictured here at last night's event, stepped out on stage in an asymmetrical, royal purple gown that she accessorized with giant cuff bracelet and a deer-in-the-headlights look plastered across her face.
We know -- that sounds bad enough. But her blunt-cut
hairstyle
was the (red) icing on the (purple) cake. Think stick-straight shoulder-length locks and blunt cut bangs.
Unless she's starring in a production of Cleopatra (and we really doubt she's starring in anything right now), there's no excuse for this look.
We know, that was all pretty mean. So, we will add that the rich violet color of the dress did look great against her fair skin and red tresses, and that she still has a slamming figure. And hey, at least she wasn't dressed like Ally Sheedy.