Bret Michaels' Bares Nude-ish Body for Billboard Cover
Posted on October 11, 2010, 11:58 AM
Critics are claiming the Poison rocker's abs are bogus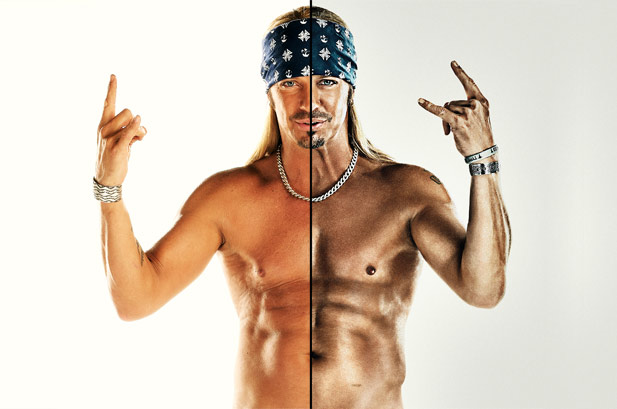 Courtesy of Billboard
Poison frontman Bret Michaels recently appeared on the October issue of Billboard magazine, as part of their 'Maximum Exposure' issue, baring nothing but a bandana and part of the cover's block of text over his loins. Although decently fit for someone who is undergoing heart surgery in a few months, the 47-year-old's
body
, by some critic's accounts, appears too fit and his abs (over)chiseled. Were the rocker's muscles overly Photoshopped?
The Billboard staff has countered those Photoshop rumors with a definite no, saying the shoot didn't need any special editing. Photo editor Amelia Halverson dismissed these rumors telling E! Online that, "They looked too unreal, mostly because there was so much detail due to the photographer's high-definition style of lighting," and maintaining that, "The final cover version shows Bret's real muscles."
Michaels himself went on to justify his heavily toned stomach by telling celebrity news site about his strict regime of working out prior to the Billboard shoot. "I didn't eat for a day and did about 2,000 sit ups," he said.
Photographer Blair Bunting, who shot the cover, furthered that claim that the former star of "Rock of Love with Bret Michaels" has a great physisique. "When he took off his shirt, I was like, 'This guy's in shape for 47!" Bunting told Billboard. "It's always easy for someone to cry 'Photoshop,' so I wasn't too surprised by that ... but he takes his shape seriously."
Despite these steadfast assertions by the publication, a number of accusations have surfaced, particularly after Billboard revealed on their website, a side-by-side comparison of Michaels' cover. One unedited version features a slightly pudgy Michaels in a more natural state; the other, a bronzed statue-esque Michaels with almost leather-ized abs.
Bunting does admit that some editing was applied to help make the rocker's abs look more symmetrical, as well as give them a more bronzed appearance—an attempt to mask his wrinkles.
Regardless, the issue has garnered so much attention that all of October's copies have sold out. Billboard is promising to print more, although you can view it online.
Michaels' new show, "Bret Michaels: Life As I Know It," in which he stars with his girlfriend Kristi Gibson and their daughters Raine, 10, and Jorja, 5, is scheduled to debut on October 18.
Dare we tweet the biggest question of all: Is that six-pack for real or not?
-- Sarah McClure