How to Get a Natural (Not Fake!) Looking Glow in Winter

Posted by Sarah on December 30, 2009 at 03:56PM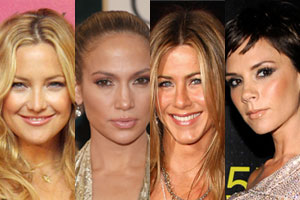 Unless you were fortunate enough to take a tropical vacation this season (lucky jer-, er, gal), you're probably looking a bit pasty about now.
While it's tempting to hit the tanning beds (but seriously, don't, or this will happen), or load up on the fake tanner (again, don't, or you'll end up looking like this), there are better ways to give your skin some color and glow while still looking natural.
Check out these tips below, they'll have people wondering if you just got back from the Caribbean, instead of worrying about your apparent jaundice.
For your body: You can use self-tanner in the winter, you just need to do it right. First, get rid of any flaky winter skin by exfoliating (otherwise you'll look super blotchy), then apply regular lotion on any dry areas like knees and elbows before the self-tanner so those areas don't get too dark.
Since we're going for "natural and subtle," don't use a tanner that's going to get you super dark. A better bet is a gradual self-tanner or bronzer like LORAC TANtalizer Body Bronzing Luminizer, $30. They will give you more "glow" than color -- a better bet for winter.
For your face: In winter, bronzer can be your best friend or your worst enemy, depending on how you use it. Just enough can give your skin a subtle glow, but too much and you literally look dirty.
The first thing to do is find the right shade of bronzer -- one that's only a shade or two darker than your natural skin tone. A shimmer or matte finish is really up to you, but don't overdo the shimmer or you'll wind up looking like a bronzed disco ball. Find the right bronzer for your skin tone here.
Once you've got the right product, apply it only where the sun would naturally hit your face: your cheekbones, forehead, bridge of your nose and very lightly on your chin. Covering your whole face is tempting, but trust me, it'll look weird. For more help creating a realistic bronzy glow, check out this video.
The bottom line to a fake tan in winter: Less is definitely more.
• Just because it's winter, doesn't mean you can slack off on this.
• If you need more winter skin help, look no further.
• Can't wait for spring? Us either. Get a head start here.