Beauty Products to Stash in Your Carry-On

Posted by Kristen on March 29, 2010 at 05:41PM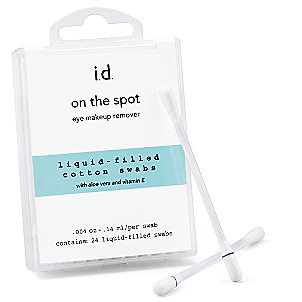 I missed the debut of the new show "Fly Girls'' -- a reality show about five female Virgin America flight attendants that premiered Wednesday on the CW. It got mixed reviews so I'm not sure if I'm missing much, but after seeing pics online, I couldn't help but notice that the ladies on this show are gorgeous and seem to be bringing sexy back to flying. (Clearly they're using travel-friendly beauty products like the ones on this list.)
So I started to speculate what they might be doing in the bathroom (besides possibly becoming members of the mile high club … again) to get pretty while in the air, and what I should keep handy when I fly. ( Maybe watching this makeup how-to video on how to look fresh and awake will help.) Here are a few must-haves to help you seem put-together and not Gremlin-like post-flight … you know, in case you're heading straight into a meeting or into someone's arms.
A few hours spent on an airplane can dry out your skin. Tuck this little bottle into your carry-on and a quick spray will give your face an instant boost of moisture, plus it feels good and wakes you up a bit.
This dream product is a Q-tip complete with a built-in supply of eye makeup remover. It's a super easy way to get rid unwanted eye makeup smudges under your eyes.
Packed your toothbrush and paste in your checked bag? No? Whoops. Avoid bad breath and beyond with this potent, natural, portable mouth freshener.
Think eyebrow pencil meets tweezers meets a brow brush. You don't need to fully reapply all your makeup as the captain makes his descent, but at least make sure your brows look polished. They alone can transform your look.
Double your pleasure -- one side contains Tarte's lip gloss and the other contains BriteSmile's teeth-whitening formula.
• Wish you could take your entire bathroom with you when you travel? No need to. Find out how to pack a mini beauty salon.
• Jetting off to somewhere tropical? Check out this guide to healthy, sunless tanning to get bronzed before stepping foot onto the beach.
• Want hair that's salon-perfect during your weekend getaway? Try these tips for the best at-home blow out ever.
• Want in on a little beauty discount secret? See how to get great deals and exclusive offers on beauty products here.
• Keep up with the latest in beauty -- follow us on Twitter, add us on YouTube and friend us on Facebook.