Quiz: How Healthy Is Your Hair?
Find out if it's Pantene-commercial worthy or if it should join Amy Winehouse in rehab
Flatirons, highlights and sunshine, oh my! So many things can cause damage to your hair without you even knowing it. Think your hair is healthy? The answer might surprise you. Take this quiz to find out the real health of your hair and get tips on how to nurse it back to a shiny, soft state.
Your Results
Quiz: How Healthy Is Your Hair?
Your Hair Is Very Damaged. Several factors contribute to damaged hair, but the most common include color-treating, heat-styling and environmental damage. Whatever the culprit, follow these steps to give it the TLC it needs.

Step 1: Only color your hair every eight weeks. If your hair is dyed, it's especially likely to be dry and parched. "No matter how gentle a formulation, hair color is always dehydrating to all types of hair," says Ouidad, owner of an eponymous salon in New York City. "This can cause hair to look and feel brittle, dull and dingy." If your hair is severely damaged, consider avoiding color -- particularly bleaching -- altogether.

Step 2: Use hair sunscreens and heat-protective leave-in treatments to prevent heat-styling and UV rays from further damaging your hair. "Because hair is like fiber, high-temperature heat will change the structure and cause damage," explains Nelson Chan, owner of Nelson J salon in Beverly Hills, Calif. He also recommends using ionic flatirons and hair dryers to avoid burning hair.

Step 3: Deep condition hair monthly and use weekly treatments for extreme damage, advises Kaz Amor, co-owner of Warren-Tricomi Salon in Los Angles. Not all conditioners are created equal, he warns: "A lot of conditioners have hydrolyzed hair keratin, which can be drying. You want creatine, an alternative to keratin that will make hair feel conditioned but not dry." Lastly, give hair the extra moisture and protection it needs with a daily leave-in conditioner.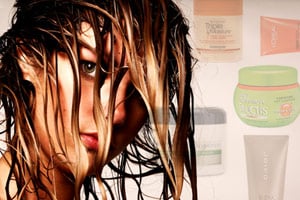 -->