Quiz: How Healthy Is Your Hair?
Find out if it's Pantene-commercial worthy or if it should join Amy Winehouse in rehab
Flatirons, highlights and sunshine, oh my! So many things can cause damage to your hair without you even knowing it. Think your hair is healthy? The answer might surprise you. Take this quiz to find out the real health of your hair and get tips on how to nurse it back to a shiny, soft state.
Your Results
Quiz: How Healthy Is Your Hair?
Your Hair Is Moderately Damaged. Without extreme vigilance, it's hard to completely avoid damage, so don't fret. Follow these simple steps to easily rehabilitate your hair.

Step 1: Trim hair every six to eight weeks to remove split ends, and only shampoo when necessary. (Unless hair is extremely oily, you don't need to shampoo daily.) Nelson Chan, owner of Nelson J salon in Beverly Hills, Calif., recommends regularly using a leave-in conditioner: "For fine hair, choose a spray leave-in that's lightweight and contains protein. Thick hair needs one that contains hydrating ingredients like shea butter or plant oils, usually in a light cream form."

Step 2: When exposed to sun or heat-styling tools, avoid further damage or dryness by using a heat-protectant spray or cream, advises Kaz Amor, co-owner of Warren-Tricomi Salon in Los Angeles. Amor also suggests using styling tools that have heat control dials so that you can regulate the level of heat applied to your hair. "Curly, coarse hair can handle higher temperatures because it has more layers of cuticle," says Amor.

Step 3: Pamper hair by deep conditioning monthly and opting for a paddle brush instead of a hard bristle brush. Oh, and avoid rubbing hair dry with a towel, advises Chan. Pat hair dry instead.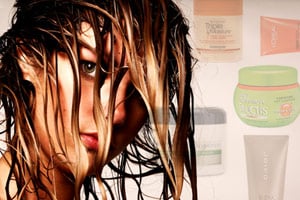 -->