Quiz: Your Best Hair Removal Strategy
Find the right process for your skin and hair type
Waxing, tweezing, lasering ... part-torture, part-godsend. But with so many choices, which method works best for you? Your skin tone, hair texture and pain threshold are all major factors we'll weed through to get your strategy set. Answer the following questions to find your ideal procedure.
Your Results
Quiz: Your Best Hair Removal Strategy
We recommend electrolysis and laser hair removal.. How they work: These treatments direct heat at the follicle to kill cells that grow new hair. "Heat kills everything," says Dr. R. Martin Earles, a dermatologist and hair specialist in Chicago, Ill. "It's a question of how much heat you can generate under the skin without damaging the skin itself." With lasers, intense heat from the light kills the follicle and prevents it from regenerating. Electrolysis targets hair with a tiny needle that releases heat under the skin, says Tina Reynolds, owner of Zap! Electrolysis and Skin Care in Los Angeles, Calif.

Cost: Laser treatments: $200 to $400 per session. Legs need six to eight treatments; the bikini area requires four to six sessions. Electrolysis: $60 to $90 per hour session. Legs require 20 to 30 hours; bikini area, 15 to 20; upper lip, six to 10 hours in half-hour increments.

Improve your game:
· Laser is ideal for those with light skin and dark hair.
· Electrolysis is more effective with light or gray hairs, which lasers often miss.
· Early laser treatments were risky for dark skin tones because lasers are attracted to color, not hair. Many of today's newly formulated lasers have a "cool" tip, which lowers the temperature of the skin to reduce risk of discoloration. Those with dark skin should shop around and request a patch test.
· And then there's the pain. Although a rubber band snapping your skin doesn't sound so bad, imagine it snapping repeatedly over an hour-long session. "Each time the laser fires it feels like a tiny snap and removes many hairs at once," says Jody A. Levine, dermatologist at Plastic Surgery & Dermatology of New York. For sensitive areas, such as the upper lip or bikini area, Reynolds recommends an over-the-counter topical numbing cream like Topicaine ($15.99, topicaine.com) or LMX-4 ($32, dermadoctor.com).

Warning for Accutane, retinol, AHA users: Check with a dermatologist before attempting permanent hair removal. Your skin will be thinner and more sensitive and, according to Levine, electrolysis and laser hair removal can discolor your skin if you are using these products.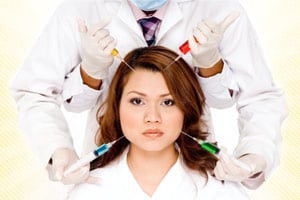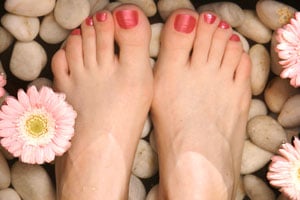 -->