Quiz: Your Best Hair Removal Strategy
Find the right process for your skin and hair type
Waxing, tweezing, lasering ... part-torture, part-godsend. But with so many choices, which method works best for you? Your skin tone, hair texture and pain threshold are all major factors we'll weed through to get your strategy set. Answer the following questions to find your ideal procedure.
Your Results
Quiz: Your Best Hair Removal Strategy
We recommend shaving, tweezing and chemical depilatories.. How they work: Shaving and chemical depilatories remove hair at the skin's surface. "With shaving, you're cutting the hair," says Kerry Nicole, owner of Wax Poetic Salon in Burbank, Calif. "With a cream depilatory, you're dissolving hair." Plucking, where follicles are pulled using tweezers, removes hair from the root. This method is best used on the face or to remove isolated ingrown hairs.

Cost: The key tools for shaving: $10 to $40 a month, depending on the products you choose. A good razor, such as the Schick Quattro for Women starts at $9.49 (drugstore.com). Shaving lotions range from $2.99 (Gilette Satin Care Shave Gel, walgreens.com) to $30 (The Art of Shaving Cream Pump, theartofshaving.com). Depilatory creams and sprays cost roughly $5 to $10 (Surgi-Cream Bikini and Leg Hair Remover, folica.com); and an excellent pair of tweezers can be purchased for approximately $20 (Tweezerman SPA Wide Grip Slant Tweezer, drugstore.com).

Improve your game
· Change blades after two uses, and use a shaving cream for sensitive skin to avoid bumps.
· "You may get an extra day or two without stubble using a chemical depilatory," says Miami-based dermatologist Dr. Heather Woolery-Lloyd, because hair is dissolved just below the surface of the skin and takes a little longer to grow back. Spray formulations, such as Sally Hansen Spray-On Shower-Off Hair Remover ($7.99, cvs.com), work well (just not around your eyes).
· Shaving and chemical depilatories are safe alternatives for those who use retinols and skincare products containing alpha hydroxy acids, or who take prescription acne medication like Accutane, which can make skin susceptible to peeling.
· To avoid ingrown hairs, shave in the direction of hair growth (knee to toe) and buff using a loofah, says Woolery-Lloyd.
· If you're willing to experiment, waxing can offer longer hair-free benefits.
· Soothe post-plucking redness with cold milk.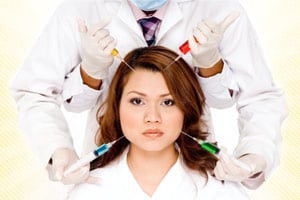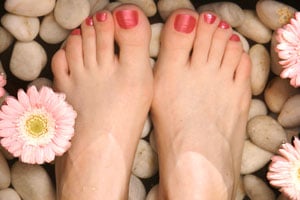 -->