Body  |  SPONSORED
4 Ways to Stay Fresh This Spring
Temperatures are climbing, so we're counting down our top favorite ways to stay cool this season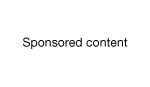 Sure, winter has its perks: there are holidays, weekend skip trips, and peppermint hot chocolate. But those things get old after a while, and come February the season loses its magic. After months of scraping ice off our car windshields, we're totally ready for winter to be over and spring to finally arrive.
Luckily the new season is right around the corner and we can finally shed a layer (or two) and enjoy the warmer temps. But before we start celebrating the fact that we can pack away our wool coat in mothballs, there is one downside to warmer weather we've got to acknowledge: sweat.
Yup, that little five letter word that leaves us slick and smelly -- not exactly cute. But we're not going to let it bring us down. Instead, we've come up with our favorite tips and tricks for battling spring's warmer temperatures and staying fresh all day long.
SEE NEXT PAGE: Apply Your Deodorant at Night
Back
to top