Nails
Wearable Technology: How Hi-Tech Manicures May Soon Help You Get Things Done
Are nail beds a viable place for digital sensors? We're about to find out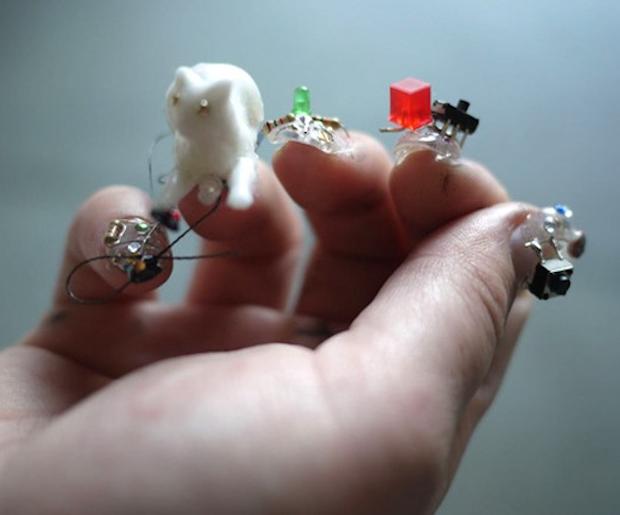 If you think the nail art trend is going away I have some bad news for ya. It's here to stay -- and, if forward-thinking M.F.A. candidates Jenny Rodenhouse and Kristina Ortega have anything to say about it, it's here to stay in a big and very important way.
The pair of brainiac nail artists are jazzed about the concept of morphing the mani into wearable technology, specifically sensor-embedded nails that can help wearers to do things like refrain from smoking or remember to pop their Prozac.
READ: Is Your Manicure Ruining Your Nails?
The sensors allow for tracking movements (such as positioning your hands to light up a cigarette or open a bottle of wine) and, because they become a "part" of your body, are always there and always on.
Imagine that you have a doctor's appointment on Thursday at 1:30. A sensor in your nail that you customize to buzz at any given time can remind you of that. It's that simple. Plus, because, unlike, say Google Glasses, nail art is something you
want
, something you choose the design for, people will be more prone to opt to have this take this sort of technology for a spin.
As
The Daily Beast
reports, Rodenhouse and Ortega are hoping that ultimately, "doctors or programmers might be on hand as well as nail technicians, to help people hone their data. The sensors could allow for coding specific behaviors," something that could be tailored to each person's individual needs.
All of this sounds so very science fiction-y and out there but, believe it or not, it's not even the wave of the future -- it's already here on our shores.
Can you see yourself being interested in trying our such a thing or are you content to keep manicures manicures and your calendar your calendar and to just keep muddling through as you've managed to do lo these many years?