Health & Beauty
The Ultimate Bridal Primping Playlist
Kick off your bridal grooming routine right with these cheerful tunes that will boost your mood and calm your nerves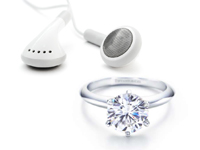 When it comes to weddings, there's more musical merriment to consider than just the first dance. To start your big day off right, you're going to need some mood-boosting, nerve-calming tunes while you get ready. So I consulted wedding music maestro Casey Campbell, CEO of Vox DJs, based in Manhattan Beach, Calif. for help rounding up the ultimate collection of songs that'll have you and your bridal party feeling fabulous while you primp for the ceremony.
According to Campbell (who has personally DJ'd more than 500 weddings), "Everyone has their own music taste. I tell my DJs that it's not about what
you
like; you have to think of the audience." We considered our audience (that'd be you and your gal pals), and compiled a collection that has a little something for everyone.
So while your misting your hairspray and applying that last touch of lip gloss you can be humming along -- or even dancing -- with these five picks for The Ultimate Bridal Primping Playlist:
1.
Ho Hey, The Lumineers
Upbeat and most definitely love-laced. Perfect for getting the primping party started.
2.
What I Wouldn't Do, A Fine Frenzy
Phrases like "lace your hands 'round small of my back and I will kiss you like a king" make us melt, yet aren't so sappy and emotion-inducing as to ruin your mascara.
3.
Sweet Disposition, The Temper Trap
Indie rock that will pump up the room but won't disturb your concentration as you create a cat eye or statement lip.
4.
Best of My Love, The Emotions
This 1977 super-hit from Chicago-born soul sisters Pamela, Sheila, and Wanda Hutchinson will have everyone's feet tapping, even if you are stuck in a chair while your hair is being perfected.
5.
Chapel of Love, The Dixie Cups
This cheery
Father of the Bride
frontrunner playfully captures the excitement of a bride on her wedding day -- a most fitting final note in our boppin' bridal book.
more stories