Makeup
Sad But True: We're Treated Differently When We Have On Makeup
One beauty blogger proves what (deep in our hearts) we already knew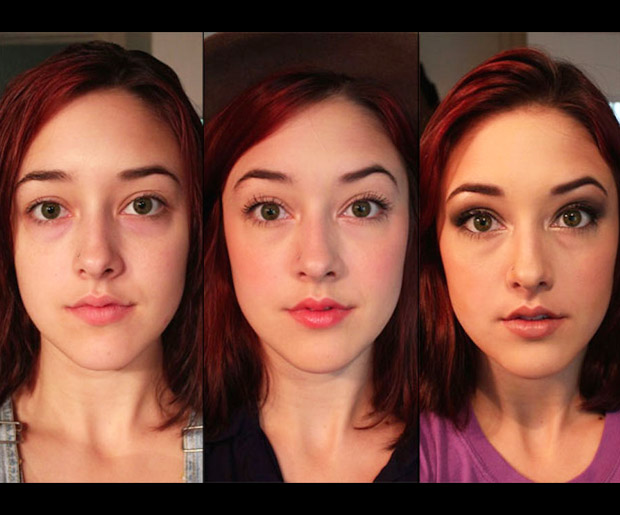 "The first time he saw me without makeup, my boyfriend asked me if I was sick," Britton Parker, a blogger for
MyDaily
, writes of a secret experiment she recently conducted.
Parker, like lots of us, wanted to prove, to experience first hand, what she feared was true -- that when we're all dolled up, we get treated differently.
READ: How Much Should You Really Be Spending on Beauty Products?
Over a three day period, the twenty-something brunette experimented with a variety of makeup looks ranging from none to "natural" to "done up" and then recorded the reactions.
Besides her very own boyfriend thinking she looked ill when bare faced, how was she otherwise received? The no makeup look also elicited comments like "Girl, you look as exhausted as I feel" and "Rough weekend?"
Ouch.
Moving on to the "natural, no makeup makeup" look was more of an upbeat experience. "You look really pretty today!" one friend told her before asking which mascara she'd used.
And, when she pulled out all the stops and went full-faced those around her thought she was ready to party. "You're ready for the weekend, huh?" "You look fierce," were among some of the enthusiastic comments Parker received when she took a smoky eye and full lip for a ride.
The blogger says that her take away from this non-scientific sociological trial was that, "While this experiment probably won't change my normal beauty routine, it did inspire me to feel confident regardless of what face I have on."
READ: 7 Waterproof Makeup Picks You'll Love
Personally, I've always been one to put my natural face first -- to save looking "really good" for special occasions. I relish the "wow factor" such behavior elicits, the "Jeez, you clean up
really
well," comments and I've always harnessed, I don't know, power (?) from the knowledge that I
can
look great if I want to but don't
need
to on a daily basis.
How about you? Do you use makeup as a weapon of some sort? Do you put it to work for you as needed? Or, is it just part of your daily get-ready routine, as second nature as brushing your teeth? Please share, our commonality -- and differences -- are (part of) what make the world of beauty so wonderful.