Health & beauty
Receipts Are Hazardous to Your Health
Think shopping's a bad habit? You have no idea ...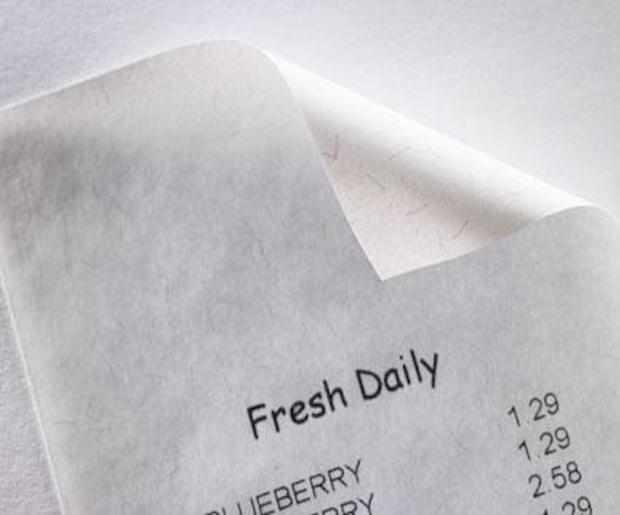 There's been a lot of research done on shopping: how it affects our psyche, how much is too much, what triggers an addiction and so on. But now, a new study is shining light on an even scarier side of commerce -- the receipts.
That's right, those seemingly innocuous thermal receipts, the ones you get from ATMs and at most restaurants and grocery stores, pose a bona fide health risk because they contain bispherol-A, more commonly known as BPA.
READ:The Cancer-Fighting, Disease-Preventing Super Foods You Have to Try in 2014
BPA is a main component of thermal paper -- think fax paper -- that blackens when heated. Cash registers "print" the paper using heat rather than toner.
A small study published in the
Journal of American Medicine
reveals that BPA -- the chemical we're all freaked out about having in our re-useable water bottles and other hard plastic containers -- can also be "absorbed through the skin by handling receipts."
"It's not the main source of exposure, but it's an additional source that wasn't previously recognized," Dr. Shelley Ehrlich of the Cincinnati Children's Hospital Medical Center in Ohio told
Reuters Health
.
Seems that touching receipts may increase your levels of BPA, which has been linked to "reproductive disorders and brain development abnormalities among children exposed in the womb," and increased levels in urine have been associated with "an increased risk of obesity in children."
While the average person probably doesn't regularly handle enough receipts to be overly concerned, cashiers and other workers who come into contact with the thermal paper should exercise caution.
Handle receipts with care," Ehrlich cautions. "They are a source of exposure to BPA and if people are handling them a lot on a daily basis ... they should perhaps consider using gloves for now."
10 Teas to Help You Burn Fat, Slim Down and Sleep Better
more stories