Health & beauty
The Breakdown Of The Perfect Woman
Is our ideal of physical beauty all that different from men's?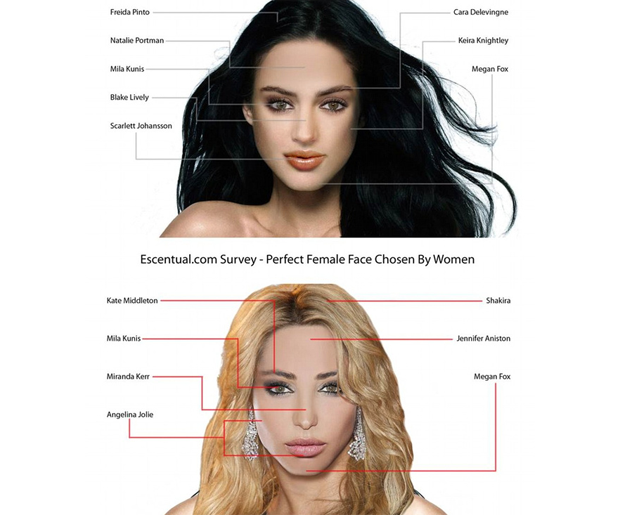 We always thought that putting the image of the "perfect woman" into the hands of men could be a dangerous idea, but we never would have guessed that our definition of the epitome of facial beauty could turn out so similarly to theirs.
Cosmetics and body care retailer Escentual.com conducted a survey that asked users of both genders to pick and choose their favorite individual features from celebrities. They then took their findings and used them to create two mock-ups of female faces, one using the information culled from men and the other from women.
RELATED: 12 Hair and Beauty Looks Men Hate
The results look like... well, no real living human being
we've
ever seen. But while the differences between the two faces are not to be overlooked (for example, women chose Freida Pinto's natural, flowing dark brown mane, while men preferred Shakira's beachy bottle-blonde waves), both groups chose Mila Kunis' eyes and, strangely enough, Megan Fox's chin as their ideal.
Aside from that, these two images certainly have one thing in common: they're
creepy
. We're just glad nobody has made a mock-up of men's ideal female bodies. That is one study we don't want to see. [
Jezebel
]
more stories