Health & beauty
Old Navy Has Taken To Photoshopping Mannequins, Too
Plus ALT on L'Wren Scott, the proper flat iron temp, and more of the top stories of the day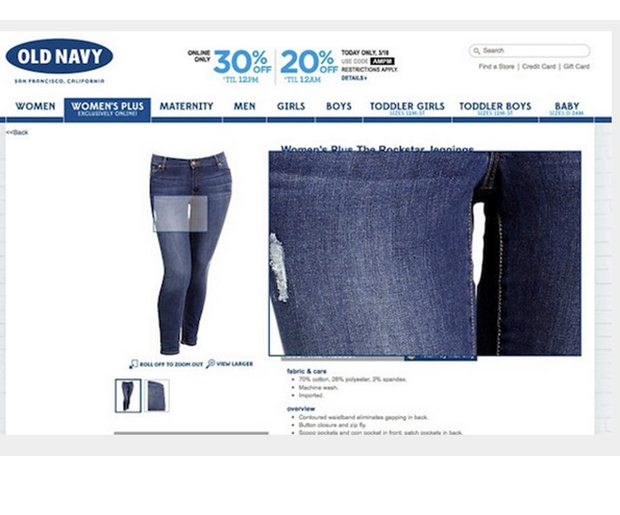 • Old Navy is now Photoshopping thigh gaps onto their
mannequins.
How friggin' crazy is
that
? And unnecessary, too. [
The Gloss
]
• Andre Leon Talley said that his friend L'Wren Scott "loved the family side of life" with her beau Mick Jagger. Scott died from an apparent suicide on Monday and many are speculating that her choice to end her life was related to business troubles. At the time of her death she was allegedly $7 million in debt. [
Us Weekly
]
• Lululemon just launched a new fashion-y line called &go, which we assume is meant to throw us off the trail of its recent troubles. The line includes shirts, shorts, pants and leggings in the $60 to $200 range, so not so cheap or anything. [
Business Insider
]
• More women over 25 are taking ADHD drugs than men, although more guys under 25 are taking attention deficit disorder medications than women. Are we overstimulated or what? [
NPR
]
• Amazing eyebrow-haver Lily Collins actually says that getting waxed is way more painful than getting tattooed. She's got "Love, always and forever" tattooed on her neck, a crown above a winged heart on her wrist, and an English rose on her foot. "Look, women go through worse things," she told
Lucky.
"Waxing hurts more than tattoos. And tattoos are permanent, so if it takes a little pain to get there, that's okay." [
Lucky
]
• Stop what you're doing, walk over to your flat iron, and make sure that it's set on 365 degrees and no higher. Flat irons that are set at temperatures in excess of 365 can do some real damage. According to Chief Technology Officer and Cambridge Scientist, Dr. Tim Moore, who has apparently devoted his life to flat iron temp research, if your iron is at 420, you'll scald your hair and cause irreparable damage to your hair's keratin. Don't do that! [
Beauty Blitz
]
more stories