Health & Beauty
The Kitchen Appliance That's Made for Parents
How to get your kids eating fruits and veggies on the regular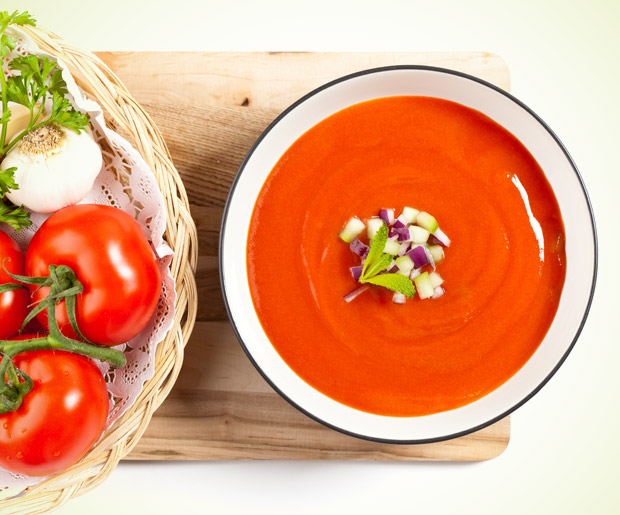 A lot of interviewers ask me parenting advice like I actually know what I'm doing. It's really cute. These days, I say get yourself a good-quality blender. If you have picky eaters in your family, it's so easy to add nutrient-rich produce to soups and smoothies to make them stealthily nutritious -- and your kids will be none the wiser. I heartily recommend you buy a well-made blender
a la
my beloved Vitamix and see what fruits and veggies you can sneak into the kiddies' food.
If your kids are down with tomatoes, they'll love this gazpacho. It's so fresh, tangy and easy to eat that it's hard to believe it's so chock-full of antioxidant-rich fruits and vegetables. I thicken mine with almonds instead of the more traditional white bread to boost protein and vitamin content.
My Antioxidant-Packed Gazpacho
Ingredients:
2 pounds juicy tomatoes
1 medium-size red bell pepper
½ medium-size seedless cucumber
½ cup seedless watermelon
½ cup celery
¼ red onion
2 cloves garlic
1/3 cup almonds
About 4 tablespoons extra-virgin olive oil
A splash of sherry vinegar or red wine vinegar (to taste)
Salt and pepper (to taste)
½ an avocado (optional)
Roughly chop the first six ingredients. Add tomatoes to blender and pulse a few times. Add the bell pepper, cucumber, watermelon, celery, onion, garlic and almonds. Pulse again, slowly adding the olive oil and vinegar, until you get the texture you want. If it's too thick, add cold water one or two tablespoons at a time. Add salt and pepper. Serve and top with thinly sliced avocado. Makes about four servings.
I always say that when I have a meal, I want my plate to look like a rainbow. Suffice it to say this ticks that box! Describe it this way to your little ones and it may be easier for them to eat that purple cauliflower.
Mind. Body.
Natural Beauty.
with guest editor Kristen Bell
Back
to top