Makeup
Katy Perry Bleached Her Eyebrows and She Liked It
The California girl tries on the trippy trend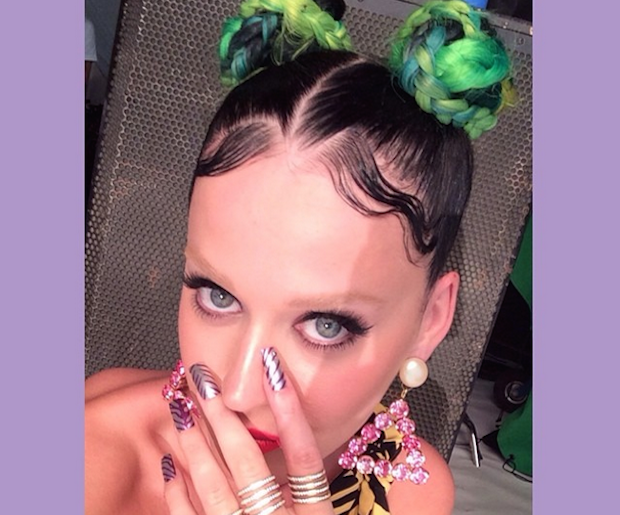 Beauty chameleon Katy Perry
must
keep a team of hair and makeup peeps on speed dial. When you're as impulsive and willing to take risks with your look (and have the $$ to do it properly) as she is, how else would you roll?
In fact, this is how I envision a typical Sunday afternoon at the Teenage Dream's L.A. pad:
[Interior: wall-to-wall leopard motif room. Katy Perry sits atop a chaise longue, martini in hand]

KP: [Aloud to no one in particular] I know! I'd like to bleach my eyebrows!

[As if by magic, a salon cape is throw about her shoulders in a flourish and a team appears to make this happen]
Right? Can't you just see that happening to help facilitate any and all beauty whims the former Mrs. Brand decides to embrace?
After all, when you have a predilection for dying your hair green (or blue) and always have some sort of rhinestone this or mega-nail art that going on, you've got to have a stable of pros at the ready to make your dream a reality.
This latest bleached eyebrow look, which
Miley Cyrus tried out to mixed reviews back in 2013 for a W magazine shoot
and Bey did for Ellen von Unwerth in 2011 and Gaga, well, Gaga did just to be Gaga, hit the Internet over the weekend when Perry posted a non-captioned photo on her Instagram (which also has a shot of her with Hillary Clinton, whose campaign theme song she's offered to write).
Funny thing is that I'm so taken by the brows that I'm not even giving the neon green and turquoise braided buns a second thought. Those (shudder) baby hairs on the other hand ...
READ: Dior's Gold Eyebrows: Could You (Would You?) In Real Life?