Perfume
Found: The Perfect Perfume For Your Wedding Day
We're calling it: Oscar de la Renta's new fragrance, "Something Blue," will be the official scent of brides everywhere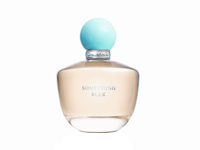 Brides tend to take the "something blue" tradition pretty seriously. It's supposed to bring good luck, and nobody wants to be jinxed on their wedding day. But the whole scrambling to incorporate something blue into your outfit can be a hassle. My friend opted to wear blue underwear, and it was only seconds before she walked down the aisle that she realized you could see straight through her white dress! Her maid of honor had to take off her slip so she could wear it and avoid a major wardrobe malfunction.
Thankfully, Oscar de la Renta has concocted a new perfume that is the perfect "something blue" for brides everywhere. The label's latest fragrance,
Something Blue
, $85, is a gorgeous and romantic mix of mandarin, linden blossom, and stephanotis. So pretty, light, and clean. Plus, the packaging is genius; the collar of the bottle can be removed and turned into a wearable, silver, size 7 ring engraved with the Oscar de la Renta logo.
To celebrate the new fragrance, the brand is inviting brides everywhere to Instagram a photo of what there something blue was, is, or might be using the hashtag #MySomethingBlue and it will be featured on OscarPRGirl's
Pinterest board
and
Facebook tab
.
And even though the perfume doesn't technically spray on blue, this can still totally count as your "Something Blue."