Perfume
5 Questions We Ask Everyone: Fergie
The fearless and "Fergilicious" new mom's tells us what's in her purse, her best-kept beauty secret and the inspiration behind her new fragrance
The Black Eyed Peas haven't released a new single since 2011, but whether it's adding one of her songs to a workout playlist, swooning over her husband Josh Duhamel, aww-ing over pics of her adorable five-month-old son, Axl, or realizing you still remember all the words to "Fergilicious" (and rightly so), Fergie manages to stay on our radar year-round. And now she's back again with Viva, a new addition to her line of signature AVON fragrances, Outspoken and Outspoken Intense. The scents are as unique and daring as the fearless artist. Remember that epic backflip in heels at the 2011 Super Bowl?
Over cocktails at the St. James restaurant in West Hollywood, Calif., the singer dished on the inspiration behind her fragrances (the Outspoken bottle is a riff on a decanter she spotted while getting dressed for her wedding day) and the beauty secret she swears by (taking prenatal vitamins even well beyond delivery). She also filled us in on the best advice her mom ever gave her ("sleep and drink water!"), her must-have hair products (Moroccan oil and Argan oil to finish off the ends of her go-to beachy wavy look) and answered the five questions we ask everyone. Get a load of her penmanship!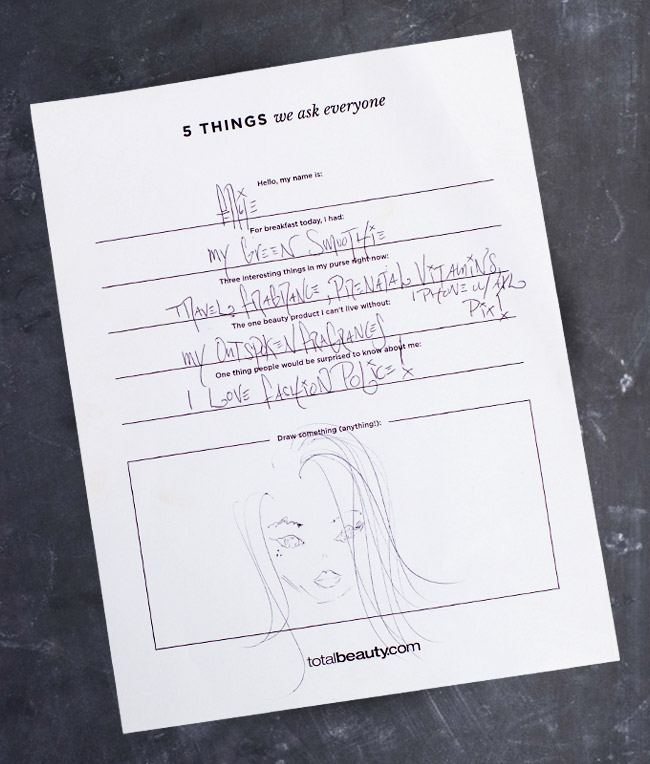 •Hello, my name is:
Fergie
•For breakfast today, I had:
My Green Smoothie (Kale, romaine, spinach, apple, pear and banana.)
•Three interesting things in my purse right now:
Travel fragrance, prenatal vitamins and my iPhone with tons of Axl pictures!
•The one beauty product I can't live without:
Fragrance. My Outspoken fragrances, specifically.
•One thing people would be surprised to know about me:
I love "Fashion Police."